Over the next several weeks, Hoops Rumors will be breaking down the 2016 offseason for all 30 NBA teams, revisiting the summer's free agent signings, trades, draft picks, departures, and more. We'll evaluate each team's moves from the last several months and look ahead to what the 2016/17 season holds for all 30 franchises. Today, we're focusing on the Minnesota Timberwolves.
Free agent signings:
Camp invitees:
Trades:
Draft picks:
Departing players:
Other offseason news:
---
Check out our salary cap snapshot for the Minnesota Timberwolves right here.
---
The Timberwolves haven't made the playoffs since 2004, but newly appointed president of basketball operations Tom Thibodeau isn't looking to cut corners to get back to the postseason. This team is full of young, promising players and the coach/executive decided not to speed up the process by sacrificing valuable assets in order to acquire veterans whom can help him win now. Instead, he's going to take some time to evaluate the team's talent and let the core grow together.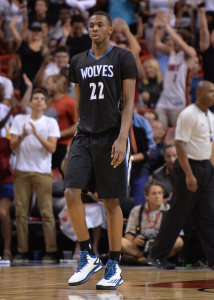 The Wolves flirted with acquiring Jimmy Butler this summer. The Bulls were reportedly asking for the No. 5 pick and young prospects, such as Andrew Wiggins or Zach LaVine, for their All-Star forward. Butler would dramatically help the Wolves in the win column this season, but Wiggins has the potential to be a perennial All-Star and trading him at such a young age could lead to regrets down the road.
The predicament of whether or not to trade Wiggins is reminiscent of Golden State's decision to hang onto Klay Thompson back in 2014. While many NBA fans, observers and experts believed the Warriors should move the shooting guard for Kevin Love, the organization was split on the decision and ended up keeping Thompson. Having won 140 regular-season games and a world championship in the two years since, the Warriors are thrilled they decided against going with the sure thing at the time. Thibodeau, who spent part of his year off shadowing Steve Kerr and the Warriors, surely took notice.
Upon arrival in Minnesota, Thibodeau's mission was to familiarize himself with the roster, so that he wouldn't make a major mistake as a first-time executive. "I liked the core of the team. I want to get to know them better," Thibs said recently. "I'm going to focus on the players we have. That gives me a better idea of what our needs are. It's like building a house. We're still working on the foundation." Instead of dealing for Butler, Thibodeau used the No. 5 overall pick to draft Kris Dunn, a player with four years of college experience under his belt.
Dunn impressed during summer league and was voted the player most likely to win the Rookie Of The Year award by his peers. That poll was conducted prior to Ben Simmons' foot injury, which threatens to keep the No. 1 pick sidelined for the year, so Dunn has an even clearer path to winning the award than originally believed. If he takes home the hardware, it would be Minnesota's third consecutive Rookie of the Year recipient, which is a feat no other NBA franchise has achieved.
Dunn's development will surely factor into Ricky Rubio's future with the team. Rubio is the starter here, but Thibs will likely play both point guards in the backcourt together for stretches. That may work initially, but as LaVine and Dunn progress, they're going to demand a larger share of the minutes, leaving Rubio with less playing time than he's accustomed to seeing.
Rubio is only 25 years old — he's just entering his prime and he'll undoubtedly want to remain a starter throughout it. Although Rubio's defensive skills fit nicely in Thibodeau's scheme, Dunn projects to be a better all-around player and will likely take that starting spot should he reach his potential. With three years remaining on Rubio's deal, the Wolves had no real urgency to move the Spanish point guard this offseason. Still, it would be very surprising if he finishes out his contract in Minnesota.
The team said goodbye to Kevin Garnett this offseason after reaching a buyout agreement with the future Hall of Famer. Minnesota will certainly miss his presence in the locker room, but the club did add a few veterans during the 2016 free agent period. The additions of Jordan Hill and Cole Aldrich will give the T-Wolves depth in the paint. With Nikola Pekovic out for the season, both players should see playing time.
Brandon Rush could be the team's most important free agent acquisition. Minnesota was 29th in the league in three-pointers made and attempted last season. Rush has made 40.3% of his long-distance shots during his career and will help the team improve on those figures. Having viable three-point shooters is key to floor spacing, and Rush's presence on the court will help open up lanes for Wiggins and the rest of the team's slashers.
The Wolves didn't hit any home runs this offseason. When you have a transcendent talent like Karl-Anthony Towns, it's natural to try to take massive steps toward winning games. Just look at what the Pelicans did upon landed Anthony Davis — New Orleans traded three of its first-round selections for veterans in the ensuing years, hoping those moves would translate to perennial playoff appearances as Davis developed. The franchise has earned a postseason spot just once — and hasn't made it to the second round — since drafting The Brow.
Conversely, the Wolves remain patient. They're not necessarily aiming for playoff appearances in the short term; they recognize that they're destined for Finals appearances. Short-term thinking brings short-term results and with a core of Towns, Wiggins and Dunn, it's clear Minnesota had the future in mind this offseason.
Salary information from Basketball Insiders used in the creation of this post. Photo courtesy of USA Today Sports Images.