Hoops Rumors is breaking down the 2016 offseason for all 30 NBA teams, revisiting the summer's free agent signings, trades, draft picks, departures, and more. We'll evaluate each team's moves from the last several months and look ahead to what the 2016/17 season holds for all 30 franchises. Today, we're focusing on the Golden State Warriors.
Free agent signings:
Camp invitees:
Trades:
Draft picks:
Departing players:
Other offseason news:
---
Check out our salary cap snapshot for the Golden State Warriors right here.
---
For the first 103 games of their 2015/16 season, just about everything played out in storybook fashion for the Warriors. They set a new regular-season record by finishing with 73 wins, breezed past the Rockets and Trail Blazers in the postseason, recovered from a 3-1 deficit to knock off the Thunder in the Western Conference Finals, and then built a 3-1 lead in the NBA Finals against LeBron James and the Cavaliers.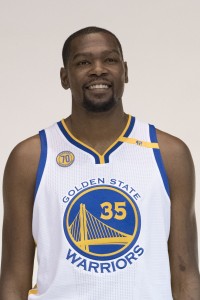 Of course, everyone knows what happened next, if only based on the ensuing memes. The Warriors' 3-1 lead evaporated, with the Cavs completing an improbable comeback to prevent Golden State from winning its second consecutive title.
It would be easy to assume that the Warriors' offseason approach, which saw the team relentlessly pursue – and land – the summer's best available free agent was heavily motivated by those last three games. After all, if the Dubs had won another championship after establishing a new record for wins in a regular season, there would seemingly be little incentive to make major changes to their roster.
However, Golden State's pursuit of Kevin Durant actually began well before July 1, and well before the team's Finals loss to the Cavaliers. According to reports, Draymond Green and other members of the Warriors were in contact with Durant throughout the 2015/16 season, engaged in recruitment efforts and urging him to consider the possibility of playing the club.
For Durant, that Finals loss may have provided the extra push he needed – it's hard to imagine him leaving Oklahoma City for the Bay Area if the Warriors were coming off two straight titles – but from Golden State's perspective, it was the plan all along. The franchise ultimately executed that plan to perfection, signing Durant to a two-year, maximum-salary deal that includes an opt-out after the first year to allow him to re-up for a larger salary.
Although the signing may have dealt a blow to competitive balance in the NBA, it's hard to criticize the Warriors for pushing to add as much talent as their roster as possible, and the team deserves credit for making a strong pitch to Durant, who also considered the Celtics, Heat, Clippers, Spurs, and – of course – the Thunder. The front office's desire to continue getting better even in the midst of a record-setting season is admirable.
If there's any downside to the approach, it probably relates to the team's handling of its complementary players. With Durant entering the mix, that meant that just about anyone else unwilling to sign for the minimum salary was expendable, including young role players like Harrison Barnes and Festus Ezeli. Guys like Barnes and Ezeli were surely aware of the recruitment efforts for Durant last season, and while that probably wasn't the reason for their underwhelming Finals performances, they played that series knowing that the team was ready to cut them loose a couple weeks later. Unless you're a star-level player like Stephen Curry, Klay Thompson, or Green, your roster spot in Golden State isn't safe.
Of course, given the nature of free agency (particularly after this year's salary cap increase), some of those complementary players like Barnes are getting star-level contracts as well, so it's in the Warriors' best interests to use that money on the players who deserve it most. And when your roster starts with Curry, Thompson, Green, and Durant, it gets a little easier to bring aboard role players at a discount, making the loss of mid-level players easier to stomach.
Among the veterans willing to sign at a reduced rate this summer? Zaza Pachulia, whose signing reportedly irritated rival executives as much as – or more than – the Durant deal, since the Warriors got him at such a below-market price. It was an interesting decision for Pachulia, who was coming off a strong year in Dallas and looked well-positioned to land one last big contract at age 32. It's also an interesting move for the Warriors, who will essentially be replacing Andrew Bogut with Pachulia, having dumped Bogut in a cost-cutting trade to make room for Durant.
Pachulia is a very good rebounder, screener, and rebounder, all traits that will come in handy in Golden State. But he lacks the rim-protecting abilities of Bogut and Ezeli, as does David West, another veteran big man who was willing to join the Warriors on a minimum-salary deal as he seeks a ring. The club did well to add productive veterans like Pachulia and West without having much financial flexibility, and both players look like excellent values on the surface. But with Bogut, Ezeli, and Marreese Speights gone, the only rim protectors on the roster are Green and JaVale McGee, who isn't expected to play much.
The Warriors' most effective lineup features Green at center anyway, so the team should be able to mask its defensive deficiencies around the rim most of the time. But it's an area to watch as the season goes on — it's possible Golden State will be targeting a shot-blocking center at the trade deadline or on waivers late in the season.
One player who could significantly help the Warriors fill the void created by the departures of their former centers is Damian Jones, the team's first-round pick back in June. The former Vanderbilt center is still recovering from a pectoral injury, and the team likely doesn't expect a ton out of him in his rookie season, but general manager Bob Myers acknowledged in September that athletic bigs like Jones are "always at a premium." With Curry and Durant on track to sign massive new contracts next July, having an inexpensive center like Jones under contract through 2020 could be a boon for the franchise in future seasons, so it's encouraging that his injury isn't a foot or knee issue that would have a greater risk of becoming chronic.
The Warriors are also high on their other 2016 draftee, second-round pick Patrick McCaw, who just turned 21 last month. With a veteran-heavy roster, Golden State likely won't count on McCaw to play a major role right away, but the team should be involved in enough blowouts that he'll get some fourth-quarter run in the coming weeks and months.
When NBA.com ran its annual survey of NBA general managers, 83.3% of the survey's respondents said that the Warriors had the best offseason of any team in 2016. The addition of Durant makes me inclined to agree. However, if we want to nitpick a team that features a pair of former MVPs and two more All-NBA stars, it's worth noting that the Durant signing cost the club a little depth. Pachulia and West were nice value signings, and the Warriors added a pair of promising rookies, but overall, the supporting cast looks a little thinner this year than it did in 2015/16, and the team has fewer movable assets to accommodate a potential in-season trade.
Nonetheless, the Warriors shouldn't need a wealth of depth to win 60+ games, given their star talent, and they may not need much depth to make another extended playoff run either. By locking up the best available free agent on this year's market, the Dubs ensured that they're a huge favorite to return to the NBA Finals, and they'll remain a perennial title contender for as long as their new "Big Four" stays intact.
Salary information from Basketball Insiders used in the creation of this post. Photo courtesy of USA Today Sports Images.