Hoops Rumors is breaking down the 2016 offseason for all 30 NBA teams, revisiting the summer's free agent signings, trades, draft picks, departures, and more. We'll evaluate each team's moves from the last several months and look ahead to what the 2016/17 season holds for all 30 franchises. Today, we're focusing on the Phoenix Suns.
Free agent signings:
Camp invitees:
Trades:
Draft picks:
Departing players:
Other offseason news:
---
Check out our salary cap snapshot for the Phoenix Suns right here.
---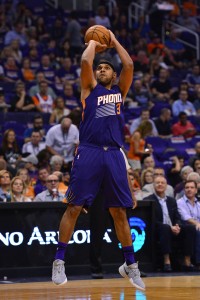 The most important moves made by the Suns this offseason came before the free agency period began on July 1.
Phoenix's first order of business was to decide what coach would guide a young roster through its rebuilding process. The second was to accumulate more difference-makers in the draft lottery through its abundance of picks.
The Suns didn't take long on the first of those offseason decisions. They gave interim head coach Earl Watson the job full-time, making him the second youngest head man in the league this season behind only the Lakers' new coach, Luke Walton.
Watson joined Jeff Hornacek's staff prior to last season and got promoted when Hornacek was fired in early February. Though the Suns only went 9-24 the rest of the way, the front office liked the way the players responded to him.
"Earl did a very good job with our team last season after taking over as interim head coach during a challenging time for the organization," Suns GM Ryan McDonough said at the time. "Earl's natural leadership qualities and his ability to connect with and motivate our players have stood out throughout his time here in Phoenix."
Former Raptors coach Jay Triano was soon hired as Watson's right-hand man to lend guidance and an experienced voice.
With that out of the way, the front office's attention turned to player personnel. The next few seasons for the Suns will be shaped by what they did on June 23rd. They walked into the draft with four first-rounders, including two lottery selections, and a high second-rounder.
They held onto the fourth overall pick and chose Euro big man Dragan Bender, giving them a stretch four with length and versatility. What they did with their other picks was both curious and intriguing. They packaged them up and shipped them to the Kings for another power forward, Marquese Chriss, a one-and-done prospect whom the Kings selected at No. 8.
How the Suns plan to use tandem of teenage power forwards in the long run remains as a question mark. The 7'1" Bender would have to fill out physically to handle the banging required to play center, and it's doubtful two players of their size could man both forward positions because of obvious concerns guarding quicker small forwards.
So unless the Suns plan to have them split the minutes at power forward in the near future, it doesn't make a whole lot of sense unless they eventually make one of them a trade chip.
McDonough offered an explanation shortly after the draft.
"We knew Sacramento would consider dropping down from 8 to 13 if we made it worth their while. But both teams wanted to get on the clock in the draft to see who was still available on the board," he said. "We took Dragan and said, let's see what we can do to get No. 8 and get both of them. We think those two guys are perfect for the modern NBA, where athleticism and shooting and defensive versatility is at a premium, and they were the two best guys in the draft at those things."
Phoenix went much smaller with its second-rounder, selecting diminutive point man Tyler Ulis out of Kentucky. Ulis provides a change of pace option to starter Eric Bledsoe, and the Suns were impressed enough to give him a four-year, partially-guaranteed contract.
In the early going, all three rookies have seen action, with Chriss getting rotation minutes.
Small forward P.J. Tucker had his $5.3MM guaranteed just before the start of free agency, but the Suns renounced their rights to four other players heading into the market. One member of that quartet, Jon Leuer, landed a lucrative four-year deal with the Pistons.
The Suns knew they weren't going to attract any top-level free agents, so they went shopping for a couple of high-character players who could contribute in the short term. The biggest fish they landed was power forward Jared Dudley, who received a three-year deal to hold the fort until either Chriss or Bender is ready to move into the starting lineup.
Dudley's contract was structured to give him slightly more at the front end, allowing a little more cap flexibility for the next two seasons.
The other top free agent addition, guard Leandro Barbosa, has a championship pedigree after playing for the Warriors during their trips to the Finals the last two seasons. The second year of Barbosa's deal is non-guaranteed, but at $4MM per is cost effective if he shows he still has something in the tank this season.
Once those free agents were signed, the only other order of business was to decide whether to pursue a rookie-scale extension with Alex Len. There was never any indication the Suns were willing to get serious in that regard with their backup center, and no agreement was reached.
It's obvious the Suns' roster is still a work in progress. They have an aging center in Tyson Chandler, a backup guard in Brandon Knight with four years and nearly $57MM left on his deal, and uncertainty at small forward. T.J. Warren's fast start could alleviate concerns with the latter issue.
Phoenix seemingly struck gold by selecting Devin Booker late in the 2015 lottery, and the 20-year-old shooting guard could develop into one of the league's top scorers.
Ultimately, the success of the Suns' 2016 offseason will be determined by whether Bender or Chriss develops into an All-Star level talent. Essentially, the Suns opted to give themselves two chances to find one top-notch power forward.
Salary information from Basketball Insiders used in the creation of this post. Photo courtesy of USA Today Sports Images.