DECEMBER 2nd, 6:52pm: Brooklyn has signed Motiejunas to a four-year, $37MM offer sheet, international journalist David Pick reports (via Twitter). The arrangement includes non-guaranteed seasons in years three and four, Wojnarowski tweets. Houston will have until Monday to match the offer.
DECEMBER 1st, 11:16am: Motiejunas could sign an offer sheet from the Nets as soon as Friday, league sources tell Wojnarowski. The Rockets, who would have 72 hours to match, have "held a strong interest" in matching any offer and retaining Motiejunas, though the money and guaranteed years included in the Nets' offer will obviously be crucial, says Wojnarowski.
10:52am: Five months after the top free agents of 2016 began meeting with teams, Adrian Wojnarowski of The Vertical reports (via Twitter) that the Nets hosted restricted free agent Donatas Motiejunas for a visit and a physical. According to Wojnarowski, Brooklyn is weighing the possibility of signing Motiejunas to an offer sheet.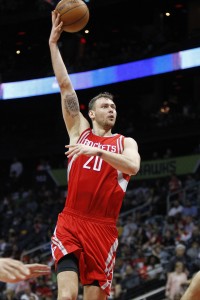 ESPN's Marc Stein, who has been on top of the Motiejunas situation throughout the fall, adds (via Twitter) that nothing will be finalized before Friday, but a deal with the Nets seems likely. Per Stein (via Twitter), the Nets are "comfortable" with Motiejunas' medical situation and are currently planning an offer sheet for the veteran forward.
Motiejunas, the NBA's last unsigned RFA of 2016, received a qualifying offer worth about $4.4MM from the Rockets back in June. However, the 26-year-old didn't reach an agreement with Houston or sign an offer sheet with a rival suitor during the offseason, and that qualifying offer expired in October. Motiejunas can no longer sign his one-year QO, but remains a restricted free agent, meaning Houston still has the right of first refusal should he strike a deal with another team, such as the Nets.
The Rockets reportedly put a two-year offer on the table for Motiejunas, worth about $7MM guaranteed in year one. However, as of November 23, the team was no longer able to re-sign Motiejunas and trade him prior to this season's February 23 trade deadline, since players signing new contracts can't be traded for three months. When that date passed, Houston reportedly pulled its offer, leaving Motiejunas' reps to engaged other potential suitors about a deal.
Since Motiejunas appears to be seeking more than $7MM annually on a multiyear contract, only teams with cap room have the flexibility to make him a competitive offer, assuming he stays in the NBA. A club like Brooklyn, which is still well below the salary floor for 2016/17 and doesn't have a long-term answer at the four, is a logical fit for the veteran power forward.
Of course, the Nets ventured into the restricted free agent market earlier this year, signing Tyler Johnson and Allen Crabbe to lucrative four-year offer sheets. Those offer sheets were matched by the Heat and Trail Blazers, respectively, leaving Brooklyn somewhat empty-handed in free agency. However, the club is in a good position to put pressure on the over-the-cap Rockets. As our salary cap snapshot shows, the Nets currently have more than $18MM in cap room. They also don't have a ton of money committed in future seasons, with about $58MM in guaranteed salary on their books for 2017/18, and just $5.5MM for 2018/19.
[RELATED: 2016/17 Salary Cap Snapshot: Houston Rockets]
Although Motiejunas struggled to stay healthy last season and his production took a significant hit, he looked like a player on the rise in 2014/15, when he averaged 12.0 PPG and 5.9 RPG to go along with a .504 FG% and a .368 3PT%. He has been plagued by back troubles in recent years, creating some long-term uncertainty about his health and limiting his market.
If Brooklyn signs Motiejunas to an offer sheet that Houston is unwilling to match, the Nets need to create an opening on their 15-man roster in order to officially add the RFA forward.
Photo courtesy of USA Today Sports Images.