As the February 23 trade deadline nears, Hoops Rumors will be taking a closer look at several players we consider trade candidates, discussing their value, speculating on potential destinations, and explaining why they are – or should be – available. These players won't necessarily be dealt in advance of the deadline, but it won't be surprising if they are.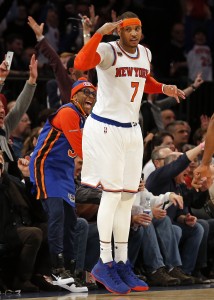 Carmelo Anthony, F
New York Knicks
2016/17 salary: $24,559,380
Under contract through the 2018/19 season, though his deal contains an ETO for the final year
Trade restrictions: No-Trade Clause
The Knicks surprisingly beat the Spurs last weekend in what could be Carmelo Anthony's final home game as a member of the team. New York doesn't have another game before the February 23 trade deadline and while the odds are against an Anthony trade, if he were to be moved, it wouldn't be the most shocking trade to happen this week.
How Did We Get Here?
It appears that team president Phil Jackson wants Anthony to play for another team, as evidenced by his disparagement of the 10-time All-Star. The Zen Master subtweeted the star and he allegedly had a hand in the article written by his close associate, Charley Rosen, which condemned Anthony. Rosen opined that Anthony's legs had similar principles to a homerun leaving Yankee Stadium and he concluded his subjective piece with this sentiment: The only sure thing is that Carmelo Anthony has outlived his usefulness in New York.
Anthony still has plenty left in the tank. At age 32, he's no longer the nimblest of athletes. When he drives at defenders, he powers into them at a controlled speed while always remaining a threat to stop and utilize his deadly jumpshot. He's not going to rival LeBron James' all-around game on a nightly basis, but he's still a top-30 player in the league and he's one of the best on the offensive end.
There's a recipe for constructing a winning Melo team, yet for the longest time, Jackson seemed disinterested in reading anyone else's cookbook. Anthony needs to be surrounded by shooters along with a defensive anchor in the post while playing in a free-flowing offense. For over half of his tenure with the Knicks, Jackson insisted on the triangle, an offense which has principles installed in sets around the league but it hasn't been successful as a standalone offense for quite some time. Kristaps Porzingis can develop into the team's defensive anchor, but Jackson's signing of Joakim Noah delays his development at the five. Additions Courtney Lee and Lance Thomas are good fits for the quintessential system, but Derrick Rose and Brandon Jennings are equally poor fits for it.
The mismatch of talent will likely lead New York to the lottery again this season. If this team was winning, the Jackson-Anthony estrangement might be blanketed, but that's not the case, as our Reverse Standings indicate.
Why Trading Anthony Is Problematic
Anthony's no-trade clause presents problems for the Knicks. New York can only send Anthony to places he wants to go, which limits the marketplace and therefore, damages the team's bargaining power in negotiations. Without a full league of competition, rival teams can make underwhelming offers for Anthony and if the Knicks are determined to move him, they will be forced to take a less-than-desirable deal.
Another obstacle in an Anthony deal is his trade kicker, as Bobby Marks of The Vertical notes. Anthony will receive a 15% bonus should the team trade him and that bonus will take into account the remaining amount owed on his contract once he's dealt (to skip the salary cap math, scroll down two paragraphs).
He has slightly over $78.73MM left on his current deal, though by the time the trade deadline arrives, he will have already made nearly $17.50MM this season. He can void the final year, which is worth just under $27.93MM, if he opts to activate his Early Termination Option. However, that amount is included in the calculation of trade bonus and if Anthony is traded Thursday at the deadline, the amount of the bonus will be slightly under $9.19MM.
That amount would get paid by the Knicks, but it would go on the acquiring team's salary cap. It would be split equally over the remaining guaranteed years of the deal (not including the final year of the deal since it's not guaranteed that he will receive it due to the ETO). Anthony's cap hit on a new team for the 2016/17 season would be $29,153,188. As Marks noted, the trade bonus could be amended to match salaries, but not if the acquiring team is hard capped (hello Cleveland). The acquiring team, if over the salary cap, would need to send back salaries that are within 125% of Anthony's salary plus $100K, which at the aforementioned figure comes out to $23.25MM.
The team that takes on Anthony would add $29,153,188 to this year's salary cap and $30,837,568 to next season's. The acquiring team would also take on another $27.93MM on the 2018/19 season's salary cap should Anthony decide not to terminate the final year of the deal. By the time Anthony makes a decision on that option, he'll be 34 years old. He could very well opt to hit the open market in hopes of landing one more lucrative deal or he could take the security of his current contract. Either way, by that point in his career, there's little chance that his contract resembles anything that's described as team-friendly.
Anthony's Most Likely Destinations
Anthony hasn't publicly stated that he would waive his no-trade clause for any team, but he would reportedly be open to a trade if it sent him to the Clippers, Cavs or Celtics.
Los Angeles isn't willing to surrender any of its core players for Anthony, but the team had discussions with the Knicks and offered New York a package headlined by Austin Rivers in exchange for the 32-year-old. It's easy to see why the Knicks didn't complete that deal, as the package included no first-round picks or promising players on team-friendly deals. A Blake Griffin-Anthony swap seems like the best case scenario for the team, but New York can not acquire Griffin while Rose is on the team because of a CBA rule that prevents teams from carrying more than one player currently signed via a designated player extension.
New York would like to bring back Kevin Love in an Anthony deal, but Love will be sidelined with a knee injury for the next several weeks so that presumably kills any chance of him heading to New York before the deadline. Even if he was healthy, it was unlikely the Knicks could acquire him, as the Cavs appear unwilling to move the big man. Cleveland remains interested in acquiring Anthony, but only if doesn't involve Love, James or Kyrie Irving. There's no indication that the teams have discussed what a trade package would look like. It would have to involve at least two players of a group that includes  Tristan Thompson, J.R. Smith, Iman Shumpert, and Channing Frye in order to make the salaries work, as Luke Adams of Hoops Rumors wrote earlier this month.
The Celtics make the most sense for an Anthony destination out of these three teams. They have the assets to offer the Knicks a reasonable deal and doing so wouldn't necessarily gut a major piece from the team's roster. However, Boston is reportedly uninterested in bringing the star to town.
An Outside-The-Box Destination
Anthony values being in New York, a place where his wife, La La, has several business ventures. He admitted that his family will play a role in deciding whether or not he waives his no-trade clause.
"My family, my son being comfortable in New York at an age now where he gets an opportunity to understand being in New York, having a home here, having friends here, my wife working there, having opportunities there," Anthony said (via The New York Post's Marc Berman). "I think about that more so than my decision for my career. At the end of the day, it will come down to my decision, but I think more about what my family is thinking, what they're going to go through if anything was to happen."
Location is a major factor for Anthony, which is why the Nets should consider making a cross-town call to the Knicks. If a Rivers-centered package appears to be the best offer on the table for Anthony, it would be smart for any team to try and top that because acquiring Anthony at that price is a low-risk transaction. Wouldn't Jeremy Lin, Rondae Hollis-Jefferson, and a lottery-protected future first-rounder (2020) be a better haul than the underwhelming packages Jackson has seen? A young prospect plus a future draft pick plus cap space is a nice formula for trading a star.
Trading Anthony to the Nets benefits the Knicks beyond the haul they receive. Boston has the right to swap picks with Brooklyn this season and the team owns Brooklyn's 2018 first-rounder outright. If the Knicks send Anthony to the Nets, it will hurt New York in the standings, which will lead to a higher pick in the draft this season, and it will indirectly hurt the Celtics' chances of landing a star-prospect through the draft over the next two seasons since the value of the two picks are reliant on Brooklyn's success (or lack thereof). The Celtics are constructed to compete for a title today and they could add a top prospect to an already-loaded roster via those picks. The Knicks could be playing catch-up for the next decade unless the Nets get better overnight.
With Boston owning those picks, Brooklyn's path to relevancy remains difficult. The Nets can't employ a tanking strategy; there's no benefit for Brooklyn to do it over the next two seasons. Free agency and trades are going to be the main sources of acquiring talent. The team isn't a major free agent destination right now, but adding Anthony could change that image. GM Sean Marks could sell free agents on playing alongside Anthony and Brook Lopez or he could deal Lopez to bring Anthony another sidekick.
From Brookyn's perspective, there's not much risk associated with bringing Anthony to the team as long as you can acquire him at the right price. The team would need to make sure protections are placed on any outgoing pick so that if Anthony bolts in free agency and the team drops in the standings, it wouldn't be losing a valuable asset.
Before the Nets could consider adding Anthony, they'd have to convince him to waive his no-trade clause and there's a pitch to be made. They could offer him more involvement in the team's moves and an escape from the James Dolan-Jackson shadow. They could offer the opportunity to change teams without him having to move his family (although he would have a rougher commute for his new gig). Anthony keeps his no-trade clause with any deal the Knicks make, per the CBA, and the small-forward can leave via free agency in the summer of 2018 should he desire to.
Anthony playing for the Nets is a far-fetched idea. It's completely speculative and unlikely to occur, yet it's a proposal that could benefit all parties involved.
The Most Likely Trade Deadline Outcome
While the Knicks would like to trade Anthony, it's likely he stays put through the trade deadline because of his no-trade clause.
"I haven't figured out a situation that makes sense for both parties," Anthony said via The Undefeated's Marc J. Spears. "I am not the kind of guy who just goes out there and says, 'Get me outta here … get me outta here,' without having a plan. It's bigger than that."
What do you think? What teams should Anthony be willing to waive his no-trade clause for and what should the Knicks get in return? Weigh in below in the comments section with your thoughts and possible trade ideas.
Photo courtesy of USA Today Sports Images