As the February 23 trade deadline nears, Hoops Rumors will be taking a closer look at several players we consider trade candidates, discussing their value, speculating on potential destinations, and explaining why they are – or should be – available. These players won't necessarily be dealt in advance of the deadline, but it won't be surprising if they are.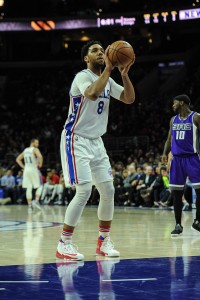 Jahlil Okafor, C
Philadelphia 76ers
2016/17 salary: $4,788,840
Team holds an option for the 2018/19 season; eligible for restricted free agency in 2020
Trade restrictions: None
Jahlil Okafor knows he's in a unique situation. He's heard his name in trade rumors since he was drafted by the Sixers with the No. 3 overall pick. He's seen his role on the team fluctuate and he's handled it all like a professional should.
"I know I'm not the type of player that's DNP," Okafor said earlier in the month about a game in which he was a healthy but didn't see the court. "But that's what it is right now. Coach Brown has been phenomenal with communicating with me. I know in the long run, I'll be fine."
In the long-run, Okafor will likely be playing for another team. GM Bryan Colangelo has reportedly been in contact with eight other franchises regarding an Okafor trade and the strong play of both Joel Embiid and Dario Saric have increased the likelihood that the team deals either Okafor or Nerlens Noel, according to Marc Stein of ESPN.com.
It appears that Okafor is more likely to be dealt than Nerlens Noel, as John Smallwood of the Philadelphia Inquirer wrote last month. Two months ago, the opposite was true. Noel wasn't seeing regular minutes and Philadelphia was investing time in the Okafor-Embiid pairing. The team didn't like what it saw and it stopped using the combo together. Okafor has seen his role diminished since the team split up the centers, while Embiid has thrived, which led one anonymous league executive to claim that the Cameroon native could eventually become a top-3 player in the league.
Okafor will likely never reach that pinnacle, though that doesn't mean he can't have a great career. Over his first season and a half, he's shown promise on the offensive end, aggressively taking the ball to the basket either by backing defenders down or driving at them from the elbow. It's been inconsistent, but that's expected; he's a 21-year-old kid who has only appeared in 88 career games. Teams looking for a young big man certainly see what's there. He isn't a blank canvas on the offensive end.
Okafor's defense remains a work-in-progress. He's the league's second-worst center on defense, per ESPN's Defensive Real Plus/Minus. Karl-Anthony Towns is the league's worst, according to that metric, so we should remember that it takes time and experience in this league to become a good defender in the post. Rim protectors need to learn how to properly position themselves during the offensive attack. Once a player learns that, simply being a massive near 7-footer is enough to be an adequate defender; just ask Nikola Vucevic. Magic coach Frank Vogel vowed to install his defensive principles and coach up Vucevic so that he can improve on his defense. This year, the Swiss behemoth has been defending opposing bigs at a top level. He's the 15th most impactful defender this season, according to NBAMath, and there's hope that Okafor can take similar strides with the right amount of experience and coaching.
That's not to say coach Brett Brown isn't doing a great job with Okafor and with this team. The issue is that there are only so many coaching hours available and Brown has so many young guys on the roster. Gregg Popovich was always able to get the best out of non-star players because his top players were experienced and didn't need as much attention. Popovich could devote the time to the role players and coach them up to help them improve. Brett Brown has no such luxury. Examine the Sixers' roster; How many players are self-sufficient and don't need a considerable amount of coaching?
Okafor will get to an acceptable level on defense, but he's not going to substantially improve without seeing more court time. He's barely cracked 800 minutes so far this season (232 players have seen more minutes than Okafor this year, including Anthony Tolliver and Corey Brewer among others). He's firmly behind Embiid on the depth chart and both Noel and Richaun Holmes have seen action ahead of him at times when everyone is healthy.
Philadelphia is being cautious with Embiid's knee injury, which opened up an opportunity for Okafor to start (and audition for other teams) tonight against the Pistons. The game could end up being one of Okafor's final contests with the Sixers, as the team was reportedly heavily engaged in talks with the Pelicans to send the Duke product to New Orleans. Philadelphia was set to receive a 2018 first-rounder in addition to center Alexis Ajinca and there was a 5:00 pm EST deadline today to complete a deal, presumably because Philadelphia played tonight and needed to know whether or not to have Okafor suit up. The teams didn't consummate a deal before that cutoff, but the two sides remain engaged in talks, as Keith Smith of RealGM reports (Twitter link).
Anthony Davis would be an excellent frontcourt partner for any player in the league, but his skillset particularly suits Okafor. At this point in his career, Okafor doesn't have much range. He can't play outside the paint and that, coupled with his defensive issues, makes pairing him in the frontcourt a tough task. He needs to be aligned with someone who has an outside shot and is able to help cover up his defensive imperfections. The potential Davis-Okafor pairing is arguably the best-case scenario for any franchise looking to build around the 2015 ACC Player of the Year.
The Pelicans are shopping their 2018 first-round pick around the league with an eye on acquiring a center, according to Adrian Wojnarowski of The Vertical (Twitter link), so they could ostensibly make another deal and miss out on acquiring Okafor.
"Obviously at this time of the year all the GMs are talking," Pelicans coach Alvin Gentry said earlier tonight. "In that situation right there it's best that you guys ask [GM Dell Demps]. I don't want to get misquoted or anything. Like I said, all the GMs are talking back and forth."
I speculate that a deal will get done with New Orleans and the franchise is just looking to gain leverage during trade talks. However, if Demps decides to trade the team's pick elsewhere, the Bulls could get back in the mix for Okafor, as they reached out to the Sixers late last week regarding the big man.
Philadelphia is reportedly looking for at least one future first-round pick in exchange for Okafor. He's under team control for at least two more seasons after this one, so Philadelphia doesn't necessarily have to deal him before the deadline. Still, regardless of whether it happens this season, this offseason or a year from now, an Okafor trade remains likely. Sam Hinkie's final first-round selection has the potential to be a solid NBA player and he could even develop into an All-Star-caliber player down the road; it's just not going to happen while he's a member of the Sixers.
Photo courtesy of USA Today Sports Images