MARCH 2: The Cavaliers have officially signed Bogut, the team announced today in a press release. Cleveland waived Jordan McRae on Wednesday in order to open up a spot on the roster for Bogut.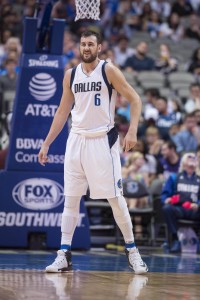 FEBRUARY 28: Andrew Bogut has committed to signing with the Cavaliers, tweets Marc Stein of ESPN and he's expected to do so this weekend. The center won't officially clear waivers until 5 PM EST on Wednesday but was released in time to be eligible to play for the Cavs during the postseason.
The Australian big man had strongly considered the Rockets and Celtics, Shams Charania of The Vertical tweets, but decided to head to Ohio after toiling away on a lottery-bound Mavs team for the past few month. Of the multitude of suitors hoping to lure the center, Houston was the one that could offer the most money, but Bogut was legitimately impressed with Boston's pitch. Per Adam Himmelsbach of the Boston Globe, Bogut and his agent will likely consider the Celtics when the offseason free agency period opens on July 1.
In Cleveland, Bogut has the clearest path to the NBA Finals, where he could possibly clash against his former team. Just last summer, the center was hastily dealt by Golden State to the Mavs in order for the Warriors to free up space to sign Kevin Durant.
In 26 games this season, Bogut has averaged 3.0 points and 8.3 rebounds per game but the biggest benefit the Cavaliers will get from the 32-year-old veteran is his interior defense.
Bogut was recently bought out by the Sixers after being dealt from Dallas to Philadelphia in the Nerlens Noel/Justin Anderson swap. The two parties immediately pursued buyout options.
Photo courtesy of USA Today Sports Images.