MARCH 2: The Warriors have officially signed Barnes to fill their 15th and final roster spot, the club announced today in a press release.
MARCH 1: The Warriors intend to sign free agent forward Matt Barnes to a contract, sources tell ESPN's Marc Stein and Chris Haynes (Twitter link). Barnes will fill the 15th slot on Golden State's roster and will receive a rest-of-season contract rather than a 10-day deal, per Ramona Shelburne of ESPN.com (via Twitter).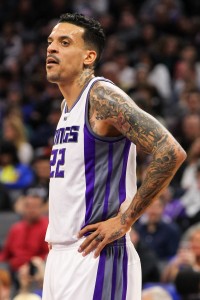 Jose Calderon, who will clear waivers on Wednesday, had been set to sign with the Warriors, having reached an agreement with the team over the weekend. As Stein explains (via Twitter), Golden State still plans to sign Calderon as promised. However, the team will then waive him in order to sign Barnes.
The Dubs' change of direction – from Calderon to Barnes – comes on the heels of Kevin Durant leaving Tuesday night's game against the Wizards with a hyperextended left knee. The severity of that injury won't be confirmed until Durant undergoes an MRI, but the fact that the Warriors are adding Barnes suggests that the club may view the injury as more than just a day-to-day issue.
Barnes, who will turn 37 next Thursday, signed a two-year deal with the Kings last summer and appeared in 54 games for the team this season. In 25.3 minutes per contest, Barnes recorded 7.6 PPG, 5.5 RPG, and 2.8 APG. However, he lost his roster spot last week when Sacramento needed to cut a player in order to complete the DeMarcus Cousins trade. The Kings waived Barnes despite the fact that he had a $6.4MM player option for 2017/18.
Barnes, a Warrior from 2006 to 2008, will come with some baggage as he begins his second stint in Golden State. The UCLA product was allegedly involved in an altercation at a Chelsea nightclub in early December, and was recently booked for misdemeanor assault. He'll have to appear in a Manhattan courtroom at a later date as a result of the charge.
Because he was waived prior to March 1, Barnes will be playoff-eligible for Golden State. Calderon will also retain his postseason eligibility as long as he's signed and waived by the Warriors before the end of the day on Wednesday.
Photo courtesy of USA Today Sports Images.