Coming off a 45-win season a year ago, the Pacers replaced head coach Frank Vogel with Nate McMillan and overhauled their roster, adding Jeff Teague, Al Jefferson, and Thaddeus Young last summer. The moves made Indiana a popular sleeper pick in the Eastern Conference at the start of the season, but the club struggled to perform consistently and finished with a 42-40 record. That mark landed the Pacers seventh in the East, which resulted in a first-round sweep at the hands of the defending champions from Cleveland.
Suddenly, the future in Indiana doesn't look so bright, and the Pacers' offseason kicked off with news that Larry Bird has decided to step down as the team's president. The Pacers now find themselves at a crossroads. Here are five questions facing the club as it embarks on a crucial offseason…
1. What does the post-Bird era in Indiana look like?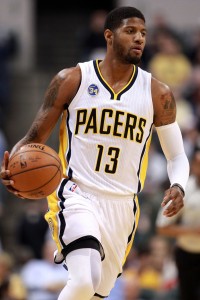 With the exception of the 2012/13 season, which he took off for health reasons, Bird has been the Pacers' president of basketball operations since 2003. The team still has plenty of highly qualified executives in its front office, led by new top decision-maker Kevin Pritchard, but with Bird no longer making the basketball decisions in Indiana, the team's roster moves may look a little different going forward.
For instance, reports around the trade deadline – and before that – suggested that Bird was strongly in favor of retaining Paul George and would do everything he could to lock up the star forward to a long-term deal with the Pacers. That report at the trade deadline indicated it was Pacers ownership that encouraged the front office to explore all its options with George.
With Bird no longer in the mix, will the team's stance on George change?
2. What's next for Paul George?
That leads us to our second issue, which revolves around the Pacers' star forward, who is under contract for two more years but can opt out in 2018. There are a number of questions the team must address before determining its next step with George, and one of those questions will be answered by many of the reporters, broadcasters, and analysts that cover the NBA.
Those media members are responsible for voting on the All-NBA teams, and whether or not George earns a spot on this year's teams could have a huge impact on his future in Indiana — if he's named an All-NBA player, the 27-year-old would be eligible for a Designated Veteran Extension, a more lucrative contract which he wouldn't be able to sign with another team if he's traded.
Still, even if George nabs an All-NBA spot, that doesn't guarantee anything. As we saw with the Kings and DeMarcus Cousins, even if a team is eligible to give its star player a Designated Veteran Extension, that doesn't mean the team will want to do it. The Pacers have been unable to build a title contender around George in recent years — signing him to a long-term contract worth 35% of the cap wouldn't make things any easier, so the club will have a lot to think about before making that kind of commitment.
On the other hand, if George becomes eligible for that deal, it's possible he'd view anything less than a max offer (which would exceed $200MM over five years) as a sign of disrespect — even if it's still more than he could make by signing with another team.
The possibility of a Designated Veteran Extension will play a role in George's possible future in Indiana, but it won't be the only factor. Ultimately, it will come down to how badly both sides want to continue the relationship. If there's reluctance on either side, it might make sense for the Pacers to explore the trade market for George this summer, rather than risk losing him for nothing a year from now.
3. Will Jeff Teague be back?
The Pacers will likely have a few veterans eligible for free agency this July, but none are more important than Teague, who was his usual reliable and productive self during his first year in Indiana. The Pacers could have landed a 2016 lottery pick when they traded George Hill last summer, but opted for Teague instead, so losing the Indianapolis native after one year wouldn't be a great use of assets. But after earning just $8.8MM in 2016/17, Teague has a chance to double that annual salary on his next deal, which would significantly cut into the Pacers' cap room. Without any viable in-house options ready to step up to replace Teague, Indiana may have to pony up.
4. What will the Pacers do with their first-round pick?
In the week leading up to the trade deadline, the Pacers were said to be dangling their first-round pick as they attempted to find some reinforcements for George and the rest of the roster. Bird didn't find a deal he liked at the time, but perhaps Pritchard will, assuming he decides to take the same approach.
Of course, as valuable as first-round selections are to NBA teams these days, the No. 18 pick won't bring back a star, and if the Pacers decide to move that pick for a player, it likely means keeping George and committing to contending in 2017/18. There's no guarantee yet that Indiana will go that route — if the team opts to retool its roster, it might make more sense to keep that pick and use it to nab a young player from a draft class that is considered deep and talented.
5. Is is time to rebuild?
That brings us to our final question, which is the one that looms over each of the first four. Are the Pacers ready to rebuild, or do they think they have the building blocks in place here to construct a contender? If they were to opt for a rebuild, the Pacers would likely find the best trade possible for George, let Teague walk, add at least one more 2017 first-round pick to their current selection, and build around young center Myles Turner.
The prospect of a rebuild is a daunting one, but if teams like the Celtics, Lakers, and Sixers – all logical landing spots for George – luck out in the lottery and secure top draft picks, the Pacers could receive some interesting trade offers, perhaps even leading to a bidding war. Given the outcome of the team's 2016/17 campaign, it appears the current roster doesn't just need a tweak or two — it needs bigger changes. It remains to be seen whether that means going all-in on contending in an effort to keep George, or moving him and launching a full-scale rebuild, but either way, it may be a very eventful offseason in Indiana.
Here's where things currently stand for the Pacers financially:
Guaranteed Salary
Paul George ($19,508,958)
Thaddeus Young ($14,996,348)
Monta Ellis ($11,227,000)
Al Jefferson ($9,769,821)
Lance Stephenson ($4,180,000)
Myles Turner ($2,569,920)
Georges Niang ($100,000) — Partial guarantee. Non-guaranteed portion noted below.1
Rakeem Christmas ($50,000) — Partial guarantee. Non-guaranteed portion noted below.2
Total: $62,402,047
Player Options
Team Options
Non-Guaranteed Salary
Kevin Seraphin ($1,974,159)3
Glenn Robinson III ($1,471,382)4
Joe Young ($1,471,382)5
Rakeem Christmas ($1,421,382) — Partial guarantee. Guaranteed portion noted above.2
Georges Niang ($1,212,611) — Partial guarantee. Guaranteed portion noted above.1
Total: $7,550,916
Restricted Free Agents
Cap Holds
Jeff Teague ($13,200,000) — UFA
C.J. Miles ($8,708,555) — If player option is declined
Lavoy Allen ($7,600,000) — If team option is declined
Aaron Brooks ($3,240,000) — UFA
No. 18 overall pick ($2,028,360)
Total: $34,776,915
Projected Salary Cap: $101,000,000
Maximum Cap Room: $32,491,518
If the Pacers were to waive all their players on non-guaranteed salaries, decline their team option on Allen, have Miles turn down his player option, and renounce their UFAs, they would have $64,430,407 on their cap for seven roster spots (six guaranteed salaries and a first-round pick). The team would also have to account for five minimum-salary roster charges for empty roster spots. The total on their books in that scenario would be $68,508,482.
Footnotes:
Niang's salary becomes fully guaranteed after either July 1 or July 15 (conflicting information available).
Christmas' salary becomes fully guaranteed after either July 1 or August 1 (conflicting information available).
Seraphin's salary becomes fully guaranteed after August 1.
Robinson's salary becomes fully guaranteed after July 1.
Young's salary becomes fully guaranteed after July 1.
Salary information from Basketball Insiders and The Vertical was used in the creation of this post. Photo courtesy of USA Today Sports Images.