MAY 1, 9:37am: The move is official, the Pacers announced on their website. Bird will hold a press conference later today to address his decision.
"I felt it was time to step away in a full-time capacity," Bird said. "This has nothing to do with my health or our team. I'm 60 years old and I want to do other things away from basketball. I will do some scouting for the Pacers, NBA, college, international, do some appearances and stay in a capacity to advise senior basketball management. I love the Pacers, I grew up with the Pacers and admired them from a very young age. I want to thank the fans for their support throughout my career. I also want to thank (owner) Herb Simon for the many years of loyalty and for allowing me to stay with the team in a different role."
APRIL 28, 11:32am: Pacers president of basketball operations Larry Bird is stepping down from his current role with the team, reports Adrian Wojnarowski of The Vertical (Twitter link). According to Wojnarowski, Indiana general manager Kevin Pritchard will assume control of the basketball operations department.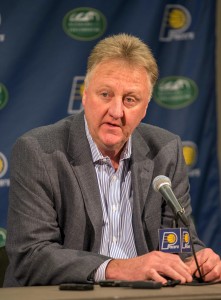 While Bird will no longer be the Pacers' president, he's expected to continue to work with Pritchard and the front office as a consultant to the franchise, per Wojnarowski (via Twitter).
[RELATED: 2017 Offseason Salary Cap Digest: Indiana Pacers]
The news comes as a bit of a surprise, as there had been little indication that Bird was considering leaving the Pacers. However, on the heels of a disappointing 2016/17 campaign and a quick playoff exit, changes of some sort were expected in Indiana. The front office shakeup could significantly change the outlook for the Pacers going forward as the team begins a crucial offseason.
For one, Pritchard was believed to be drawing some interest from the Magic as a potential replacement in Orlando's front office for Rob Hennigan. Given his increasing role in Indiana, Pritchard now appears unlikely to go anywhere anytime soon. As for Bird, Wojnarowski tweets that the Magic's search firm has been asking around about him as a possible candidate for team president, but the Hall-of-Famer plans to stick to consulting for the time being.
Bird's departure may also have an impact on Paul George's future in Indiana. Reports around the trade deadline – and before that – suggested that the team president was strongly in favor of retaining George and doing everything he could to lock up the star forward to a long-term deal with the Pacers. It's not yet clear if Bird's resignation makes an offseason trade of George more likely, but that will be a very interesting situation to monitor moving forward.
Bird had been the Pacers' president of basketball operations since 2003, with the exception of the 2012/13 season, which he took off for health-related reasons. The team made it to the postseason nine times during that stretch, including three Eastern Conference Finals appearances. Bird also won the NBA's Executive of the Year award in 2012.
Photo courtesy of USA Today Sports Images.