"What if" is a question we often ask in sports. What if the Blazers had drafted Michael Jordan? What if Amar'e Stoudemire and Boris Diaw had been available for Game 5 of the 2007 Western Conference Finals? What if the Wolves hadn't passed on Stephen Curry (twice!)? What if the Lakers had officially acquired Chris Paul? One can easily wander down one of the many "what if" roads throughout NBA history.
The Paul-era Clippers represent another "what if" avenue. What if the club hadn't been plagued with such bad injury luck? Would this team have a title? Would it be blasphemous to talk about breaking up the Clippers' core when Blake Griffin and DeAndre Jordan remain very much in their primes? Perhaps we're watching Griffin in awe, debating where he ranks among the all-time great big men in league history. Yet, as with all of the NBA's "what if" quandaries, they simply are not reality.
The 2016/17 season provided another gruesome chapter in the Lob City era. Another injury to Griffin crushed any hope the club had of stealing a title from the Warriors or Cavs. The organization faces an inflection point this summer and it must determine whether or not its collection of talent can compete at the highest level.
Here are five questions facing the Clippers as they enter the offseason…
1. Can the Clippers re-sign Chris Paul?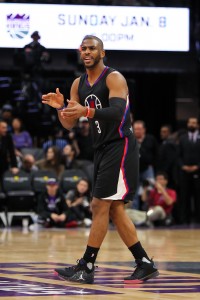 The Clippers have a massive advantage over rival teams when it comes to re-signing Paul. The CBA will allow the franchise to give Paul a five-year, max deal, something that wasn't always available for players in his age bracket. In the previous CBA, players could not sign max contracts that ran past their 36th birthday. That threshold has been extended to 38, which gives the Los Angeles the ability give the 32-year-old a five-year, deal worth a projected $205MM+. The most any other team can offer is four years and an estimated $152MM.
While Paul may take meetings with other clubs, it's unlikely he plays for any team besides the Clippers. Reports of a verbal agreement in place have been swirling since mid-season and a source told Mitch Lawrence of Forbes prior to the postseason that the deal is "all done, with a wink and a nod."
Team president Doc Rivers' top priority this offseason will be bringing back the chronically underrated point guard. It appears that task is already in hand, which will allow the front office to determine the next steps this offseason.
2. Can the Clippers bring back Blake Griffin?
Whether or not the Clippers should give Griffin north of $175MM over five seasons is up for debate. His injury history, as well as his fit next to Jordan, should give Los Angeles pause when entering negotiations. However, the Clips knows that some team will pay Griffin the max (albeit, on a four-year deal) if they don't and it's not as if they can just spend elsewhere to replace him should they deem he's not worthy of that kind of deal.
The franchise has nearly $60MM in guaranteed deals on its books for the 2016/17 campaign. Of those contracts, only six players are under control for next year (L.A. will pay parts of three contracts it waived via the stretch provision and the team will likely pay just over $1MM to Paul Pierce). Let's assume the Clippers brings back their future Hall of Fame point guard on a max contract (estimated first-year salary of $35.35MM), and account for at least five minimum salaried slots. In that scenario, Los Angeles is already at the projected $101MM salary cap without re-signing Griffin.
The Clippers can go over the cap to sign Griffin since they own his Bird rights, and giving the 28-year-old power forward whatever it takes to keep him on the team makes the most sense for the franchise.
3. Is J.J. Redick worth his market price?
The Clippers' front office will have to evaluate the financial ramifications of bringing the team's core back and Redick could be a casualty of a business decision. The Duke product will likely command an annual salary of $15MM+ per season, which means the Clippers would continue to rampage through tax territory if they re-sign their top three pending free agents.
It's unclear if owner Steve Ballmer is willing to pay the luxury tax for a team that remains unlikely to beat the Warriors in a seven-game series. Even if Ballmer doesn't find the tax line to be a deterrent, Redick is far from a lock to return. He has several rival teams interested in his services and, among the Clippers' top free agents-to-be, he's the most likely to sign elsewhere.
4. Should the Clippers trade for Carmelo Anthony?
Nearly every commodity has a price at which it makes sense to buy, and we may find out what price the Clippers are willing to pay for Anthony this offseason.
For the last couple seasons, it appeared the cost of acquiring Anthony was too high for the Clippers to take on. It wouldn't make sense for the team to trade someone like Griffin for the right to pay Anthony nearly $31MM during the 2017/18 season, only to negotiate another lucrative deal with the 10-time All-Star during the 2018 offseason. However, if the cost is Austin Rivers and Redick (via sign-and-trade), then the price of acquiring Anthony begins to match the value he would bring.
Anthony won't vault the team into true contender status, but his presence would help the Clippers compete with any non-Warriors Western Conference team. If Ballmer is willing to pay the tax for the luxury of being in the league's second tier and the Knicks are willing to accept the aforementioned offer, then bringing Anthony on board may be Los Angeles' best option this offseason.
5. Can the front office develop talent and effectively round out the roster?
One of the franchise's major issues has been its inability to find talent on the cheap. Teams like the Hawks and Grizzlies find the Kent Bazemores and JaMychal Greens of the world because of their ability to identify and develop talent, while the Clippers constantly make questionable decisions with their end of bench roster spots. Rivers has signed the likes of Brandon Bass and Alan Anderson—veterans who are largely ineffective and don't have much room to grow—instead of younger players with more potential.
The Clippers' use of their minimum salaried slots will be more important than ever this season. Los Angeles doesn't have any draft selections this year and it won't have the bi-annual exception at its disposal since it signed Luc Mbah a Moute last offseason. Outside of the taxpayer's mid-level exception, the team will likely fill its remaining open roster spots with minimum salaried deals. Taking a new approach to filling those slots will be crucial and it'll be a harder task now that every team will have up to two additional roster spots to stash young talent.
Here's where things currently stand for the Clippers financially:
Guaranteed Salary
DeAndre Jordan ($22,642,350)
Jamal Crawford ($14,246,988)
Austin Rivers ($11,825,000)
Wesley Johnson ($5,881,260)
Brice Johnson ($1,331,160)
Diamond Stone ($1,312,611)
Paul Pierce ($1,096,080) — Partial guarantee. Non-guaranteed portion noted below.1
Carlos Delfino ($650,000) — Waived via stretch provision
Jordan Farmar ($510,921) — Waived via stretch provision
Miroslav Raduljica ($252,043) — Waived via stretch provision
Total: $59,748,413
Player Options / Early Termination Options

Chris Paul ($24,268,959) (ETO)
Blake Griffin ($21,373,952) (ETO)
Luc Mbah a Moute ($2,302,135) (PO)
Marreese Speights ($2,116,955) (PO)
Total: $50,062,001
Team Options
Non-Guaranteed Salary
Paul Pierce ($2,583,760) — Partial guarantee. Guaranteed portion noted above.1
Total: $2,583,760

Restricted Free Agents
Cap Holds
Chris Paul ($34,303,241) — If early termination option is exercised
Blake Griffin ($30,211,259) — If early termination option is exercised2
J.J. Redick ($14,017,250)
Luc Mbah a Moute ($2,863,900) — If player option is declined
Alan Anderson ($1,471,382)
Brandon Bass ($1,471,382)
Raymond Felton ($1,471,382)
Marreese Speights ($1,471,382) — If player option is declined
Total: $87,281,178
Trade Exceptions
Projected Salary Cap: $101,000,000
Maximum Cap Room: $36,357,897

Determining the Clippers' maximum cap space is a less interesting exercise than it is for most other teams, since there's very little chance the Clips will part ways with all their free-agents-to-be in an effort to create cap room. Still, it's worth noting that if the club renounces those free agents and exceptions, keeps its six guaranteed salaries, and accounts for six empty roster spots, that would result in a $64,642,103 team salary. A new deal for Paul would eat up most of that room, and if the Clippers are able to retain Griffin as well, that would send team salary way over the cap.
Footnotes:
Pierce's salary becomes fully guaranteed after June 30.
Griffin's cap hold can't exceed his maximum salary, which is currently projected to be $30,300,000.
Salary information from Basketball Insiders and The Vertical was used in the creation of this post.  Photo courtesy of USA Today Sports Images.