MAY 12: Lowry has officially opted out of his contract, according to his agency, ASM Sports (Twitter link).
MAY 8: As expected, Kyle Lowry will opt out of his contract with the Raptors and become a free agent this summer. Lowry confirmed the decision today to reporters in his exit interview following the Raptors' elimination from the playoffs, though he's not sure what his next move after that will be, as Josh Lewenberg of TSN 1050 tweets.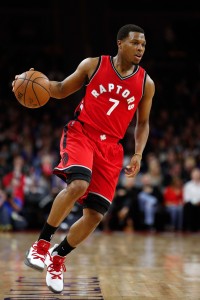 "Honestly I haven't thought too far ahead of any of that," Lowry said of his looming free agency. "I will be opting out, but that's as far as I've gotten."
Lowry, who called the prospect of entering free agency "fun, but stressful" (Twitter link via Sportsnet's Michael Grange) had indicated way back in October that he'd likely opt out at season's end. The decision is an easy one, as Lowry's player option for 2017/18 is worth just $12MM. The 31-year-old will be able to easily exceed that on the open market.
Just because Lowry will opt out of his Raptors contract though, that doesn't necessarily mean he'll leave Toronto. The Raps will still have a leg up in contract negotiations, since they can offer him more years (five) and higher raises (8%) than any other team can (four years and 5% raises).
Still, Masai Ujiri and company will face some tough decisions this summer, with Serge Ibaka, Patrick Patterson, and P.J. Tucker also facing free agency. The Raptors front office will have to determine whether it's worth potentially going into tax territory to keep the club's current core together after a demoralizing second round sweep at the hands of the defending champion Cavaliers.
[RELATED: Community Shootaround: Raptors' Free Agents]
For the 2016/17 season, Lowry averaged a career-high 22.4 PPG to go along with 7.0 APG, 4.8 RPG, and a .464/.412/.819 shooting line in 60 games. He was named an All-Star for the third consecutive year.
Photo courtesy of USA Today Sports Images.