Reversing his decision to head to the free agent market, Chris Paul has opted into the final year of his contract as part of a trade. The Clippers have sent Paul to the Rockets in exchange for a massive trade package, Houston confirmed today in a press release. The Clippers will receive the following pieces in the deal: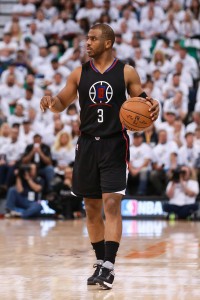 Rockets' 2018 first-round pick (top-three protected)
$661K in cash (the amount Paul agreed to reduce his trade bonus to, per Bobby Marks)
"Since winning back-to-back championships, the pursuit of a third title has remained the ultimate goal for our franchise," Rockets owner Leslie Alexander said in a statement. "We feel that combining two of the league's greatest players in James Harden and Chris Paul, operating in Coach [Mike] D'Antoni's system, gives us a championship caliber team that will compete at the highest level for years to come."
The move is a bombshell, particularly since Paul had been expected to reach free agency this weekend — a report last week indicated that he had made the decision to opt out of his contract. However, CP3 had yet to formally file the paperwork to exercise that early termination option. Instead, he'll waive the ETO, which will allow him to play out the final year of his deal and become eligible for unrestricted free agency in 2018, unless he signs an extension with Houston before next July. Paul is currently set to earn $24,268,959 in 2017/18.
According to Wojnarowski, the Clippers and Rockets reached an agreement after Paul informed L.A. that he intended to sign with Houston in free agency. From the Clippers' perspective, the trade with Houston is a way to recoup some value for the star point guard and avoid losing him for nothing. Meanwhile, the Rockets will no longer have to worry about trying to dump a salary or two in order to create enough room for a maximum salary slot for Paul.
The Rockets, who were reported on Tuesday to be a "serious" threat in the Paul sweepstakes, have now secured their man before the free agent period even gets underway. The club's star-studded backcourt will create an intriguing dynamic, since Harden is coming off an MVP-caliber season in which he served as Houston's primary ball-handler. According to Wojnarowski (via Twitter), Paul and Harden were "determined" to play together, so the duo is presumably unconcerned about how the ball-handling duties will be shared going forward.
It will be interesting to see if Rockets president of basketball operations Daryl Morey has anything else up his sleeve for the team in July. According to ESPN's Jeff Goodman, the club is still on the lookout for a third star to complement Paul and Harden. Houston was reportedly involved in Paul George trade talks, though the club surrendered some valuable assets in today's move, so it's not clear whether Morey still has enough pieces to interest the Pacers.
With Paul now headed to Houston, the Spurs – who were rumored to be a contender for Paul – will have to look elsewhere if they intend to sign a marquee free agent point guard. Teams around the NBA hoping to re-sign their own star point guards, such as the Pelicans (Jrue Holiday) and Raptors (Kyle Lowry), may also be breathing a little easier, since the Rockets were viewed as a team capable of shaking up the point guard market.
As for the Clippers, it's not clear yet if today's deal will be the first domino to fall in a full-fledged rebuilding process for the club, or merely a retooling of the roster. In Beverley and Williams, the Clips will acquire a pair of effective and affordable veteran guards who figure to step into key roles right away. Dekker is more of a wild card, but the 23-year-old big man flashed some upside in a rotational role for the Rockets last season, as did Harrell.
Paul's departure also figures to be a factor in Blake Griffin's impending free agency. Unlike Paul, Griffin has formally exercised his ETO with the Clippers, so he's on track to become an unrestricted free agent on Saturday. Given the reported tension between Paul and Griffin over the years, it's possible that the trade of CP3 makes Griffin more likely to re-sign — Sam Amico of AmicoHoops.net (Twitter link) spoke to several league executives who speculated as much.
[RELATED: Clippers confident about re-signing Blake Griffin]
Because the combined salaries of Beverley, Dekker, and Williams – the package reported initially for the Clippers – weren't enough for the Rockets to land Paul, Houston spent most of the day acquiring players with non-guaranteed salaries from other teams to include in the deal. Liggins and Hilliard will be flipped to the Clippers, but Tim Quarterman, Shawn Long, and Ryan Kelly, who were all traded to Houston earlier today, won't be part of this transactions — Houston instead included Harrell and Wiltjer.
I explained the math from the Rockets' perspective earlier today. By structuring the deal as they did, the Rockets will remain over the cap and will have the mid-level exception ($8.4MM) and bi-annual exception ($3.3MM) available to pursue free agents when the new league year begins.
The Clippers waived retiring forward Paul Pierce in order to adhere to the NBA's offseason roster limit of 20 players.
Adrian Wojnarowski of The Vertical (Twitter links) broke news of the trade. Jonathan Feigen of The Houston Chronicle and Brad Turner of The Los Angeles Times were among those who reported key details along the way.
Photo courtesy of USA Today Sports Images.