Few NBA franchises have been more successful in the 21st century than the Mavericks, who finished at .500 or better for 16 consecutive seasons, earning 15 playoff berths, 13 postseason series wins, and a championship during that stretch.
However, the 2016/17 campaign was a disappointment, as the Mavs missed the playoffs by a wide margin, finishing with a 33-49 record. It looks like it's time for a rebuild in Dallas, but that decision is complicated by the fact that longtime star Dirk Nowitzki likely only has another year or two left in him. After years of building contending rosters and pursuing win-now upgrades, will the Mavs be willing to patiently retool their roster as Nowitzki's career winds down?
Here are five key questions facing the Mavs as the offseason begins:
1. Will the Mavs ask Dirk Nowitzki to take a pay cut?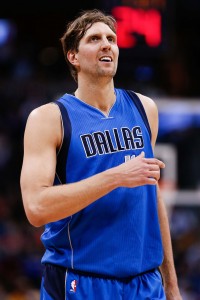 A year ago, the Mavericks voluntarily gave Nowitzki more money that the two sides had initially agreed upon, bumping the total value of his two-year contract from $40MM up to $50MM, since it didn't hamper the team's ability to make other moves. A year later, Dallas may ask Nowitzki to return that favor.
The German big man, who celebrates his 39th birthday on Monday, is coming off his least productive season since his rookie year, having seen his averages slip to 14.2 PPG, 6.5 RPG, and a .437 FG%. He also missed 28 games due to injuries. Now, the Mavs have to decide whether or not to exercise a team option worth $25MM for 2017/18.
Exercising that team option would leave the Mavs without any cap room, and based on the players they've been linked to in various reports and rumors, it doesn't sound as if they're necessarily planning on operating as an over-the-cap team. That suggests Dallas may decline Nowitzki's option and re-sign him at a lesser rate. The amount of the pay cut that Dirk is willing to take could dictate how much spending flexibility the Mavs have this summer.
2. How big will Nerlens Noel's new contract be?
Along with Nowitzki, Noel is the other Maverick without a guaranteed contract for 2017/18 who will nonetheless take up a significant chunk of cap room. Having acquired the former sixth overall pick at the deadline, the Mavs appear to regard Noel as their center of the future, and appear to have every intention of retaining him.
Noel, who is eligible for restricted free agency, currently has a cap hold just shy of $11MM. Assuming he intends to re-sign with the Mavs, the team can keep that somewhat modest figure on its books until it uses up the rest of its cap room, and then can go over the cap to lock up Noel. However, if another suitor swoops in with an aggressive offer sheet for Noel, perhaps one worth the max, Dallas' flexibility may be compromised.
However Noel's free agency plays out, I don't expect the Mavs to let him get away, but it will be interesting to see what his new contract looks like. Dallas already has Harrison Barnes on a maximum salary deal, and neither he nor Noel have ever received serious All-Star consideration. With Wesley Matthews also on a sizable contract, the Mavs will have to be careful about paying too many solid starters like they're franchise players.
3. Will Wesley Matthews be shopped in trade talks?
One way to make a big deal for Noel more palatable would be to move Matthews in a trade that cuts costs. However, Matthews' trade value isn't high.
The former Blazer will earn nearly $17.9MM in 2017/18, with an $18.6MM+ player option for the following year. The Portland version of Matthews would have been worth that sort of money, but the Dallas version has seen his shooting numbers decline substantially. A 44.3% shooter (39.3% on three-pointers) before joining the Mavs, Matthews has made just 39.0% of his field goals and 36.2% of his threes over the last two years.
With Barnes now doing many of the things the Mavs initially expected of Matthews, the Marquette product has become more expendable. Dallas wouldn't get a ton in return for Matthews in a trade, but even just getting out from under his salary would create a new series of possibilities for the club, so it's worth considering.
4. Who will play point guard for the Mavs?
For the last several years, the Mavs have been searching for long-term answers at the point guard and center positions. With Noel expected to remain in Dallas, the club has a solid option at center. So, what about a point guard?
The free agent market offers plenty of point guard options this summer, and by the sounds of it, the Mavs are exploring the possibility of splashing in that end of the pool. A recent report suggested that the team is viewed as a serious candidate to sign Jrue Holiday, along with his brother Justin Holiday. Signing Jrue would likely require at least $20MM in cap room, so the Mavs' ability to make a serious play for him – or another point guard of his caliber – may hinge on what happens with Nowitzki, Noel, and Matthews.
Dallas could also delve into the trade market, with another recent report indicating that Ricky Rubio is one trade candidate on the club's radar. Rubio may be viewed as an underwhelming solution to the Mavs' point guard problem, but if he continues to play like he did down the stretch in 2016/17, he'd be a worthwhile investment — after the All-Star break, Rubio averaged an impressive 16.0 PPG and 10.5 APG with a .420/.353/.917 shooting line. The Timberwolves aren't exactly loaded with three-point shooters, so a deal involving Matthews might make some sense for both sides.
5. What will the Mavs do with their lottery pick?
Of course, even if the Mavs don't land a veteran point guard via trade or free agency, they're in a great spot to add a prospect at the position. This year's draft class is heavy on promising point guards, and while the No. 9 pick won't be high enough to land Markelle Fultz, Lonzo Ball, or De'Aaron Fox, the Mavs may be in position to nab Frank Ntilikina or Dennis Smith Jr.
The Knicks, with the No. 8 pick, are a good bet to take one of those two players off the board before Dallas is on the clock, but I'd expect at least one of them to be available. We don't know for sure that the Mavs are high on both Ntilikina and Smith, and it's possible the club would rather go in another direction with that pick, such as selecting Lauri Markkanen as Nowitzki's eventual replacement. But drafting a young point guard and perhaps acquiring a stop-gap veteran (such as Rubio or a second- or third-tier free agent) would be a great way to address a position that has given the Mavs trouble in recent years.
Here's where things currently stand for the Mavericks financially:
Guaranteed Salary
Harrison Barnes ($23,112,004)
Wesley Matthews ($17,884,176)
Dwight Powell ($9,003,125)
J.J. Barea ($3,903,900)
Seth Curry ($3,028,410)
Devin Harris ($1,339,662) — Partial guarantee. Non-guaranteed portion noted below.
A.J. Hammons ($1,312,611)
Gal Mekel ($315,758) — Waived via stretch provision.
Total: $59,899,646
Player Options
Team Options
Non-Guaranteed Salary
Devin Harris ($3,062,884) — Partial guarantee. Guaranteed portion noted above.
Salah Mejri ($1,471,382)2
Nicolas Brussino ($1,312,611)3
Dorian Finney-Smith ($1,312,611)4
Jarrod Uthoff ($1,312,611)5
Total: $8,472,099

Restricted Free Agents
Nerlens Noel ($4,187,598 qualifying offer / $10,961,225 cap hold)
Total: $10,961,225
Cap Holds
No. 9 overall pick ($2,681,900)
Total: $2,681,900
Trade Exceptions
Projected Salary Cap: $101,000,000
Maximum Cap Room: $34,340,379

The Mavericks have six fully guaranteed contracts on their books. Adding cap charges for their first-round pick and five empty roster spots brings their total team salary to $66,659,621. That would create enough flexibility to pursue a maximum salary player, but it also doesn't account for players like Noel or Nowitzki, who will almost certainly be back. So, barring cost-cutting trades, Dallas figures to have less cap room than that when July begins.
Footnotes:
Merji's salary becomes fully guaranteed after July 12.
Liggins' salary becomes partially guaranteed ($26,773) after June 24 if team option is exercised.
Brussino's salary becomes fully guaranteed after July 6.
Finney-Smith's salary becomes partially guaranteed ($100,000) after July 6.
Uthoff's salary becomes partially guaranteed ($200,000) after July 30.
Salary information from Basketball Insiders and The Vertical was used in the creation of this post. Photo courtesy of USA Today Sports Images.