JUNE 12: Gay's formal player option deadline has come and gone without him picking up that option, so he's officially on track to become an unrestricted free agent on July 1.
MAY 8: Kings forward Rudy Gay won't exercise the player option on the final year of his contract, agent Roger Montgomery confirmed today to Marc J. Spears of The Undefeated. Gay will opt out of the deal, making him an unrestricted free agent this July.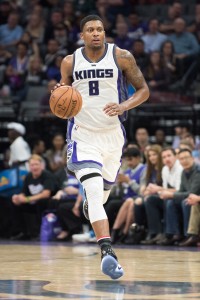 Gay initially informed the Kings back in September that he intended to opt out of his contract in the summer of 2017, and it sounded at the time like the veteran would likely be leaving Sacramento. However, after going down with an Achilles injury in January, Gay was less certain about the decision on his option, which is worth about $14.26MM.
Montgomery tells Spears that Gay is "ahead of schedule" in his recovery from that Achilles injury, having been cleared to start lifting weights. Gay is expected to be back on the court in mid-June, per Montgomery, so that's presumably a key factor in his option decision. If Gay was expecting to still be in the earlier stages of his rehabilitation in July, when free agency begins, he'd likely be less inclined to opt out and take his chances on the open market.
According to both Spears and Sean Cunningham of ABC10 (Twitter link), Gay is willing to talk to the Kings in free agency and hasn't ruled out staying in Sacramento. The Kings certainly have the cap flexibility to make him a competitive offer, but Gay also wants to play for a winning team, and Sacramento remains very much in rebuilding mode. It's also worth noting that Gay's stint with the franchise has been a bit of a bumpy ride, making a change of address more likely.
Gay, who will turn 31 in August, averaged 18.7 PPG and 6.3 RPG in 30 games for the Kings this past season before going down with his Achilles injury. Those averages were a little above his career rates, and his .372 3PT% was his best mark since 2010/11.
Photo courtesy of USA Today Sports Images.