2:56pm: The Celtics and Pistons have sent out press releases confirming that Bradley and a 2019 second-round pick are headed to Detroit in exchange for Morris. The deal is now official.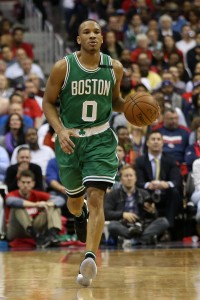 9:17am: The Celtics and Pistons are finalizing a trade that will send Avery Bradley to Detroit, league sources tell ESPN's Adrian Wojnarowski. According to Shams Charania of The Vertical, Boston will also send out a 2019 second-round pick and will receive Marcus Morris in the swap.
Because Morris' $5MM salary for 2017/18 is about $3.8MM lower than Bradley's figure, the move will allow the Celtics to create the cap room necessary to finalize their maximum salary deal with Gordon Hayward, per Bobby Marks of ESPN. The club also has the $4.328MM room exception available for another free agent.
[RELATED: Gordon Hayward to sign four-year deal with Celtics]
Boston had reportedly been shopping Bradley, Jae Crowder, and Marcus Smart in an effort to clear enough space for Hayward's new contract. With Bradley on the move, Crowder and Smart are poised to stay put, at least for now.
In addition to creating some cap space, the trade will add a power forward to a Celtics rotation that is in need of bigs. So far this offseason, the Celtics have waived Tyler Zeller and lost Amir Johnson and Kelly Olynyk in free agency, creating some frontcourt concerns for a team that already lacked reliable rim protection and rebounding. Morris isn't an elite rebounder, but the 6'9″ forward has the ability to guard bigger players.
During his two seasons in Detroit, Morris missed just five regular season games, making 159 starts for the Pistons. He averaged 14.1 PPG, 4.8 RPG, and 2.3 APG, with a shooting line of .426/.345/.763.
As for the Pistons' side of the swap, the team had entered the offseason with a need for some backcourt depth and has now added Bradley and Langston Galloway. With Detroit's payroll on the rise and its backcourt filling up, it will be interesting to see whether the team remains committed to retaining Kentavious Caldwell-Pope.
By exceeding the taxpayer mid-level exception to sign Galloway, the Pistons created a hard cap of $125.266MM, significantly limiting their ability to match a big offer sheet for KCP unless they can shed a contract or two. Team salary is currently in about the $109MM range. For what it's worth, ESPN's Brian Windhorst (Twitter link) suggests the club's talks with Caldwell-Pope haven't progressed, and speculates that the team may make him unrestricted or decline to match an offer sheet.
Bradley, 26, enjoyed his best season in 2016/17 on a per-game basis, averaging new career bests in PPG (16.3), RPG (6.1), APG (2.2), and a handful of other categories. He also provided excellent perimeter defense and shot .463/.390/.731.
Although Bradley is a very solid pickup for the Pistons, he'll be an unrestricted free agent a year from now, which is perhaps one reason the Celtics ended up moving him — Crowder remains under contract for three years, while Smart is a restricted free agent next summer and Morris has two years left on his deal, so the team retains some control on all three of those players. Wojnarowski suggests that the Pistons may be aggressive in pursuing a new deal for Bradley, who is extension-eligible, but the team's cap situation limits its ability to give him a major raise before next summer.
Before agreeing to a trade with the Pistons, the Celtics reportedly talked to the Jazz about a sign-and-trade involving Crowder and to the Knicks about a deal that would have included Smart. Wojnarowski adds (via Twitter) that the Lakers and Clippers were "prominent in [Bradley] talks until the end."
As an aside, it's worth noting that the NBA's new Collective Bargaining Agreement was put to good use in this deal. Under the new CBA, over-the-cap teams are permitted to take back 175% of their outgoing salary, plus $100K, instead of 150% plus $100K (up to a $5MM difference in salaries). In the old system, Detroit would only have been able to take back up to $7.6MM for Morris, but the new CBA allows the team to squeeze in Bradley's $8.809MM salary.
Photo courtesy of USA Today Sports Images.