July 6: The trade is official, according to a Hawks team press release.
July 4: The Clippers, Hawks, and Nuggets are in agreement on a three-way deal that will send Danilo Gallinari to the Clippers in a sign-and-trade arrangement, reports Chris Vivlamore of The Atlanta Journal-Constitution. The deal has been discussed extensively, and there was an expectation it would get done, but it hadn't been formally agreed upon until now. It can be made official when the moratorium ends on Thursday.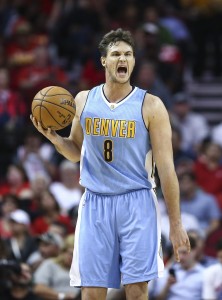 Based on the terms reported, the trade is expected to look like this:
Clippers receive: Gallinari (sign-and-trade, three-year deal worth $65MM)
Hawks receive: Jamal Crawford, Diamond Stone, first-round pick from Clippers (Rockets' 2018 first-rounder), cash.
Nuggets receive: Second-round pick from Hawks (it will be the Wizards' 2019 second-rounder, tweets Vivlamore)
The key piece in the transaction is Gallinari, a free agent forward who turns 29 next month. He has had some trouble staying on the court in recent years, appearing in just 175 total games over the last four seasons, but he's a versatile and effective scorer when he plays, averaging 18.2 PPG with a shooting line of .447/.389/.902 in 2016/17. The Clippers envision him sharing the frontcourt with Blake Griffin and DeAndre Jordan.
The Clippers didn't have the cap room to sign Gallinari outright, and the Nuggets didn't want to take back salary in a sign-and-trade since they're preserving their space to finalize Paul Millsap's signing. That opened the door for the Hawks to enter the mix and nab a future first-round pick – along with a young prospect in Stone – for their willingness to take on Crawford's contract.
While Crawford will land in Atlanta as part of this three-way deal, there's a belief that he'll seek a trade or buyout. A trade will be tricky to complete, and the Hawks would likely want Crawford to forgo a significant chunk of the $17MM+ in guaranteed money remaining on his deal in order to buy him out. If the two sides can work something out though, the Lakers, Warriors, Spurs, and Cavaliers are among Crawford' possible landing spots.
Photo courtesy of USA Today Sports Images.