July 7, 7:32pm: The Heat have officially re-signed Waiters, the team announced over Twitter.
Ira Winderman of the Sun-Sentinel notes that the Waiters deal had to be announced prior to the Johnson confirmation, at which point a potential Wayne Ellington guarantee could follow.
July 6, 7:01pm: The Heat and Waiters are in agreement on the previously reported four-year, $52MM deal, per several reports. According to Scotto, the deal won't include any options.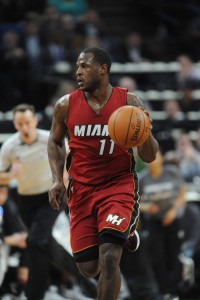 Scotto also reports that the Lakers made a one-year, $17MM offer to Waiters. L.A. has been reluctant to commit any second-year guaranteed money to free agents.
4:48pm: Waiters' new deal is expected to be a four-year contract, according to Wojnarowski (via Twitter). Michael Scotto of Basketball Insiders (Twitter link) pegs the total value at $52MM over four years.
4:31pm: The Heat are finalizing a contract agreement with Dion Waiters that will bring the free agent guard back to Miami, reports Adrian Wojnarowski of ESPN (Twitter link). Wojnarowski had indicated earlier today that Waiters was considering the Heat, Lakers, and Knicks, and would likely make a decision soon.
[RELATED: 2017 NBA Free Agent Tracker]
Waiters, a former fourth overall pick, didn't generate much interest in free agency last summer after the Thunder withdrew his qualifying offer, and ultimately signed a modest deal with the Heat. Although he was limited to 46 games (43 starts), the 25-year-old had a nice bounce-back season in Miami, averaging 15.8 PPG, 4.3 APG, and 3.3 RPG with a shooting line of .424/.395/.646.
Armed with a player option for 2017/18, Waiters turned down that option in search of a more lucrative deal on the open market, and was linked to the Lakers, Knicks, Bulls, and Kings. After Miami missed out on top free agent target Gordon Hayward, however, it made sense for Waiters and the Heat to work out a new agreement that allowed him to return to South Beach.
Terms of Waiters' deal aren't yet known, but the Heat figure to use a chunk of cap room to re-sign him, since their Non-Bird rights would only allow for a 20% raise. The club would also like to bring back James Johnson and has interest in Rudy Gay, among other free agents, so we'll see how much cap space is left over after Waiters' deal.
Waiters had ranked 21st overall on our list of 2017's top free agents last week.
Photo courtesy of USA Today Sports Images.