JULY 7, 3:19pm: The Heat have officially signed Olynyk, the team announced today in a press release.
"As soon as Kelly Olynyk became an unrestricted free agent, we pursued him," Heat president Pat Riley said in a statement. "He is not only a post player, he can also play away from the basket. What we like the most is that he is a playmaker, tough defender and rugged rebounder. At just 26 years old, he fits in perfect with our young core that will play together in their primes."
JULY 6, 6:45pm: The Heat have reached an agreement on a four-year contract with free agent center Kelly Olynyk, according to Adrian Wojnarowski of ESPN, who reports (via Twitter) that the deal is worth $50MM. Olynyk's new deal will include a fourth-year player option, Wojnarowski adds (via Twitter).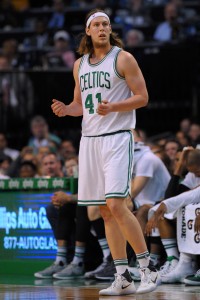 Because the Celtics withdrew Olynyk's qualifying offer earlier this week, he's an unrestricted free agent and can sign outright with Miami. Boston needed to clear the big man's cap hold from its books in order to help create enough space for Gordon Hayward's new maximum salary deal with the team. Until Olynyk's QO was rescinded, he had been a restricted free agent, but becoming unrestricted helped accelerate his market.
Olynyk, 26, appeared in 75 regular season games for the Celtics last season, averaging 9.0 PPG and 4.8 RPG and once again showed off an ability to make an outside shot (.368 career 3PT%). His most memorable performance in Boston came in Game 7 of the Eastern Conference semifinals against the Wizards, when he helped the C's seal the series with a 26-point outburst.
By signing with the Heat, Olynyk will join a frontcourt that needed a little depth, given Willie Reed's free agency. Veteran power forward James Johnson also reached the open market over the weekend, but Olynyk's deal won't preclude a new agreement with Johnson, according to Ira Winderman of The South Florida Sun Sentinel, who tweets that the team still intends to get something done with the unrestricted free agent.
Having now reached eight-figure deals with Olynyk and Dion Waiters, the Heat only have about $6MM in cap room left over, but could open up another $6MM+ by waiving Wayne Ellington's non-guaranteed contract and another $4MM or so by stretching Josh McRoberts' deal.
Tim MacMahon of ESPN.com reports (via Twitter) that the Mavericks and Heat have had discussions about a trade that would create more space for Miami, so it's possible that Dallas is willing to take on McRoberts — Tyler Johnson would be the other logical trade candidate on the roster.
Photo courtesy of USA Today Sports Images.