Chris Bosh's salary will officially no longer count against the Heat's salary cap going forward, with the team announcing today in a press release that Bosh has been waived. The move formally brings an end to Bosh's seven-year stint with the franchise.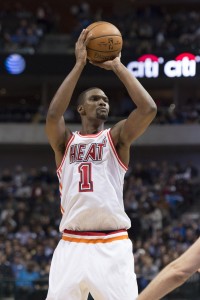 "Chris changed his life and basketball career when he came to Miami," team president Pat Riley said in a statement. "And he changed our lives for the better, in a way we never would have imagined, when he joined the Miami Heat. We will forever be indebted to CB for how he changed this team and led us to four trips to the NBA Finals and two NBA Championships. He is, without a doubt, one of the greatest players in the history of the franchise.
"The number '1' will never be worn by another player and we can't wait to someday hang his jersey in the rafters," Riley continued. "Today, we are both moving on but we wish Chris, Adrienne and their family nothing but the best. They will forever be part of the Miami Heat family."
As we detailed last month when an independent doctor ruled Bosh's blood-clot issues to be career-ending, he will no longer count against the Heat's salary cap due to his medical retirement designation. That clears more than $52MM in total salary from the team's books for the next two years, including $25.3MM+ in 2017/18. Miami will still have to pay Bosh his remaining salary, though the team figures to recoup a significant chunk of that money through insurance.
It's possible Bosh will attempt a comeback at some point, though NBA executives are skeptical about the odds of that. If his NBA career is officially over, the 33-year-old will finish with averages of 19.2 PPG and 8.5 RPG over 893 total games with the Raptors and Heat (14 total seasons, including 2016/17). Bosh was named to 11 All-Star teams and won two championships over the course of his career.
Photo courtesy of USA Today Sports Images.