JULY 15, 12:34pm: The breakdown for Simmons' deal is $6.3MM the first year, declining to $6MM and $5.7MM in the last two years of the contract, according to ESPN's Adrian Wojnarowski. The final year is partially guaranteed at $1MM, Wojnarowski adds (Twitter link).
JULY 14th, 3:25pm: Simmons' three-year deal is worth $20MM, according to Jabari Young of The San Antonio Express-News (Twitter link). That should leave a little cap room for the Magic after they complete the signing.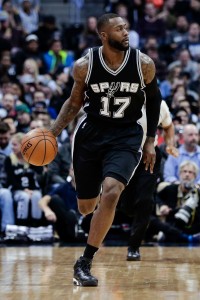 2:42pm: The Magic have reached an agreement with Jonathon Simmons and will sign the free agent swingman to a three-year contract, reports Shams Charania of The Vertical. The deal will be fully guaranteed, tweets TNT's David Aldridge. Because the Spurs withdrew their qualifying offer for Simmons on Thursday, Orlando can sign him outright as an unrestricted free agent.
A former undrafted free agent out of Houston, Simmons played a career-high 78 games for the Spurs last season, averaging 6.2 PPG, 2.1 RPG, and 1.6 APG in part-time minutes for the club. Simmons also took on a larger role in the postseason, averaging 15.3 PPG and 3.3 APG in the Warriors' four-game sweep of the Spurs and entering the starting lineup after Kawhi Leonard went down.
Simmons began the month as a restricted free agent, having received a modest qualifying offer from the Spurs. San Antonio was said to be preparing an offer in the range of $9MM annually for Simmons, but it's not clear if that offer ever materialized. The Kings, Clippers, Knicks, and Timberwolves were among the teams that expressed interest in Simmons during his restricted free agency, but by the time the Spurs renounced his rights on Thursday, most of those clubs had used up all their cap room.
San Antonio's decision to pull its qualifying offer before Thursday's deadline was a bit of a surprise, but it reportedly came after a request from Simmons' camp. Prior to renouncing Simmons, the Spurs were said to have explored a sign-and-trade scenario that would have sent him to Phoenix for Tyson Chandler, but San Antonio balked at taking on Chandler's contract.
As for the Magic, they have been fairly quiet so far in free agency — outside of Shelvin Mack, no veteran free agents have signed with the team. Orlando's new top decision-makers, Jeff Weltman and John Hammond, are known for their willingness to roll the dice on upside, however, and even though Simmons will turn 28 in September, he's considered a player who has the potential to improve and play a larger role for a team. The Magic have about $8MM in cap room and could open up a little more by waiving non-guaranteed contracts, so it appears they'll use most or all of that space to lock up Simmons.
Simmons' path to the NBA was an unusual one. As detailed by Michael C. Wright in an excellent ESPN feature, the 6'6″ guard paid $150 back in 2013 to participate in an open D-League tryout. Less than four years later, he's on the verge of finalizing his first huge NBA payday.
Photo courtesy of USA Today Sports Images.