JULY 6: The Pelicans have officially re-signed Holiday, the team announced today in a press release.
JULY 1: The Pelicans have reached an agreement to re-sign point guard Jrue Holiday, according to Adrian Wojnarowski of ESPN, who reports that the two sides have struck a five-year, $126MM deal. Wojnarowski adds that the value of the contract, which includes a fifth-year player option, could increase to approximately $150MM via incentives.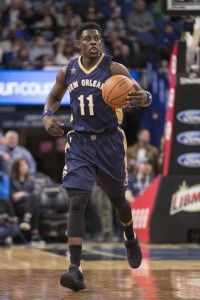 According to Wojnarowski, Holiday met with Pelicans officials with New Orleans late on Friday night in New Orleans, and while they didn't make a deal immediately, the 27-year-old reached an agreement with the team just a few hours later. Holiday had been expected to meet with the Pacers and/or Knicks if he hadn't agreed to re-sign with the Pelicans.
As Wojnarowski details, the Pelicans and Holiday developed a strong bond after the way the franchise helped the point guard deal with a family crisis last fall, when he missed the start of the 2016/17 season to care for his wife and newborn child. Head coach Alvin Gentry also has "tremendous trust" in Holiday's ability to run New Orleans' offfense, per Woj.
Re-signing Holiday was New Orleans' top priority this offseason, particularly given the team's salary cap situation. With more than $85MM in guaranteed salaries already on their books for 2017/18, the Pelicans weren't in a position to create significant cap room to sign a replacement point guard if Holiday had decided to head elsewhere.
Because they held Holiday's Bird rights, the Pelicans had the ability to go over the cap to lock him up, and now will have the mid-level ($8.4MM) and bi-annual ($3.3MM) exceptions available to add further reinforcements. They'll also have a "big three" of Holiday, Anthony Davis, and DeMarcus Cousins for at least the next year, until Cousins' contract expires in the summer of 2018.
Holiday, the 17th overall pick in 2009, arrived in New Orleans as a result of a draft-day trade in 2013. He has been reliable and productive over the last four years when he gets on the court, though he has been plagued by injuries too, having averaged just 52 games per season. In 2016/17, the UCLA product averaged 15.4 PPG and 7.3 APG.
It will be interesting to see whether the Pelicans express any interest in Justin Holiday this week. The Holiday brothers publicly stated earlier this year that they'd love the opportunity to play together, and Jrue's older brother is also a free agent this summer.
Jrue Holiday was the No. 14 player on our list of this year's top 50 free agents. He's one of several point guards who has already struck an agreement since free agency opened less than eight hours ago. Stephen Curry, Jeff Teague, Patty Mills, and Shaun Livingston also have new deals in hand, leaving Kyle Lowry, George Hill, and Derrick Rose as the top point guards available.
Photo courtesy of USA Today Sports Images.