The Raptors have officially sent Cory Joseph to the Pacers in a trade, the team announced today in a press release. In exchange for Joseph, Toronto acquired the draft rights to forward Emir Preldzic.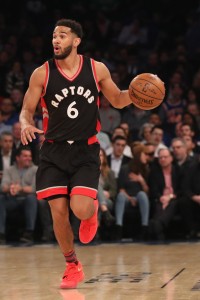 "We are very excited to acquire Cory," Pacers president of basketball operations Kevin Pritchard said in his team's announcement of the trade. "He has been on our radar for a while. With Darren Collison and Cory we have two solid, veteran point guards who fit our culture of playing hard and unselfish."
Joseph was previously reported to be part of a swap that would send Miles to the Raptors in a sign-and-trade. However, Miles' three-year contract was set to include a player option, and the NBA's Collective Bargaining Agreement prohibits third-year options on contracts completed in sign-and-trade deals.
As such, the Raptors will trade Joseph and sign Miles in separate transactions. Toronto will sign Miles using the mid-level exception, which starts at $8.406MM. By splitting up the transactions, the Raptors will no longer be able to retain that MLE for another signing, but they'll pick up another traded player exception instead. After getting a $11.8MM TPE in their DeMarre Carroll deal with the Nets, the Raptors will create a trade exception worth Joseph's salary ($7.63MM) in today's swap.
Moving Joseph to Indiana before signing Miles will help the Raptors stay out of luxury tax territory for now. Joseph, who turns 26 next month, played in 80 games for the Raptors last season, averaging 9.3 PPG and 3.3 APG. He'll team with the newly-signed Collison as Indiana looks to replace Jeff Teague at the point guard position.
Joseph's contract includes a player option worth $7.945MM for 2018/19, so he could hit the free agent market a year from now if he has a solid season with the Pacers.
As for Preldzic, the 29-year-old forward was the 57th overall pick in the 2009 draft and has remained overseas since then. At this point, he seems unlikely to make the jump stateside, so his NBA rights were likely just included in the deal because each team has to send out something in a trade. This is the fourth time Preldzic's rights have been traded since he was drafted.
Photo courtesy of USA Today Sports Images.