SEPTEMBER 20: The Nuggets have officially re-signed Plumlee, issuing a press release today to announce the deal.
SEPTEMBER 18: The Nuggets have reached a three-year deal with restricted free agent Mason Plumlee valued at $41MM, according to Adrian Wojnarowski of ESPN. Agent Mark Bartelstein tells Wojnarowski that the two sides struck an agreement late Sunday night.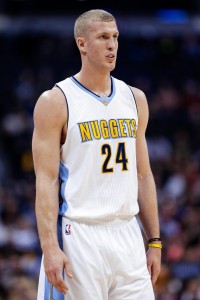 Plumlee came to Denver in a trade with Portland at last year's deadline, with the Nuggets giving up Jusuf Nurkic and a first-round pick for Plumlee and a second-rounder. The 27-year-old center was used mainly in a reserve role behind Nikola Jokic and averaged 9.1 points and 6.4 rebounds over 27 games.
Plumlee confirmed the signing in a "Letter to Nuggets Fans" posted on his website, saying he is looking forward to the upcoming season. "I meant what I said when I was traded here last year," he wrote. "This is an exciting, talented young team with a bunch of high character guys and I've always admired the loyalty and dedication of Nuggets fans. With some of the big additions this summer and another year of experience for the young guns, I believe this team can compete with anyone in the league."
Plumlee, who made a little more than $2.3MM last season, got a deal similar to the four-year, $56MM extension the Hornets gave Cody Zeller last fall, notes ESPN's Bobby Marks (Twitter link). The signing pushes Denver's salary total to $103.2MM, which ranks 20th in the league (Twitter link).
At this point in the offseason, given the lack of cap room available around the NBA, it's a strong deal for Plumlee, and reflects the value the Nuggets place on him, even with Jokic and Paul Millsap penciled in as the starters up front.
With Plumlee under contract, the only restricted free agents left on the market are Nikola Mirotic of Chicago, Alex Len of Phoenix and JaMychal Green of Memphis.
The Nuggets' next priority, Wojnarowski adds, will be reaching an extension with Gary Harris before the October 16 deadline.
Photo courtesy of USA Today Sports Images.