SEPTEMBER 25: The Pelicans have officially re-signed Cunningham, the team announced today in a press release.
SEPTEMBER 19: Free agent forward Dante Cunningham has made a decision on where he'll play in 2017/18, according to Shams Charania of The Vertical, who reports that Cunningham has agreed to re-sign with the Pelicans.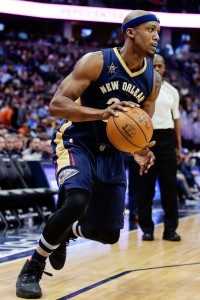 According to Charania, Cunningham will get a one-year, $2.3MM deal from New Orleans. The minimum salary for a player with Cunningham's NBA experience is $2,106,470, so if his salary exceeds that, the Pelicans would have to use a different exception — they also wouldn't get any help from the NBA to cover the full amount, like they would for a one-year, minimum salary deal.
Either way, Cunningham is set to return to the franchise with which he spent the last three seasons. In 2016/17, the 30-year-old forward averaged 6.6 PPG and 4.2 RPG in a rotation role for New Orleans, and also added a reliable three-point shot to his arsenal — Cunningham's 1.1 3PG and .392 3PT% were both career highs by a wide margin.
While it looked initially like Cunningham's improved outside shot might make him a more coveted target on the free agent market, he didn't draw as much interest as expected. A handful of teams – including the Timberwolves, Bucks, and Raptors, per Charania – were said to be in the running for him, but his new 2017/18 salary will be worth less than the $3.1MM player option he turned down in June.
Still, the Pelicans are likely happy to get Cunningham back at a reduced rate, particularly with Solomon Hill expected to miss a significant portion of the 2017/18 season with a torn hamstring. While New Orleans has an All-NBA caliber duo up front in Anthony Davis and DeMarcus Cousins, the club doesn't have a ton of depth at forward and could use more shooting help. Cunningham's ability to play at both forward spots and his improved three-point shot should be valuable.
Once they finalize their reported agreements with Cunningham and Martell Webster, the Pelicans will have 19 players under contract. Cunningham's deal would represent the club's 14th fully guaranteed salary.
Photo courtesy of USA Today Sports Images.