Another restricted free agent is set to come off the board, according to Adrian Wojnarowski of ESPN, who reports that Suns big man Alex Len intends to sign his one-year qualifying offer before training camp gets underway. Signing that qualifying offer will put Len on track to become an unrestricted free agent in 2018.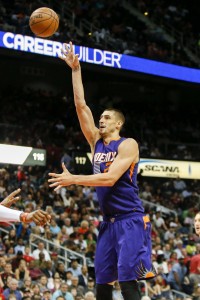 Len, the fifth overall pick in the 2013 draft, has spent the first four years of his NBA career in Phoenix, but the Suns remain reluctant to commit to him for the long term. Wojnarowski suggests in his report that the club wants to study the 24-year-old's progress during the 2017/18 season before offering him a lucrative long-term contract. Of course, by putting a potential extension off for another year, the Suns will lose the right of first refusal that they had this offseason.
While Len and his camp investigated the possibility of signing an offer sheet with a rival suitor, or working out a sign-and-trade arrangement with the Suns, none of those scenarios were as appealing as the prospect of hitting unrestricted free agency next year, says Wojnarowski.
In 2016/17, Len appeared in 77 games for the Suns, starting 34. He averaged 8.0 PPG and 6.6 RPG in 20.3 MPG, chipping in 1.3 BPG with a .497 FG%. Like Nerlens Noel, the other RFA to sign a qualifying offer this offseason, Len didn't meet the starter criteria, so his qualifying offer was worth just $4.188MM instead of $6.4MM.
After adding that $4.188MM salary for Len to their books, the Suns will still only be at about $82MM in guaranteed money for the 2017/18 season. That number will increase a little if Phoenix carries a couple non-guaranteed salaries, but the club will remain well below the salary floor.
Unless the Suns intend to make a run at another restricted free agent – JaMychal Green or Nikola Mirotic – that cap room is unlikely to be put toward a major signing, but it could be used to accommodate a salary dump in a trade later this season.
With Len on a one-year deal, the Suns will also retain plenty of cap space for the summer of 2018. Currently, the club has less than $60MM in guaranteed money on its cap for 2018/19, per Basketball Insiders, though that figure will increase once Phoenix exercises options on Devin Booker, Marquese Chriss, and a couple other players.
Once Len officially signs his qualifying offer, he'll gain the ability to veto trades during the 2017/18 league year, since he would lose his Bird rights if he's dealt.
Photo courtesy of USA Today Sports Images.