2:50pm: Westbrook's five-year extension is now official, with the Thunder formally issuing a press release to announce the new deal.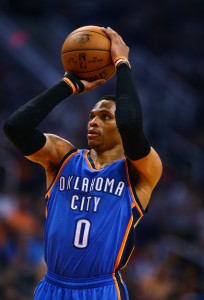 "I've said it before, and I'll say it again, there is no place I would rather be than Oklahoma City," Westbrook said in a statement, calling Thunder fans "the best in the world."
Meanwhile, Sam Amick of USA Today reports (via Twitter) that the final year of Westbrook's extension will be a player option.
2:18pm: The Thunder have reached an agreement on a contract extension with Russell Westbrook, according to ESPN's Adrian Wojnarowski, who reports that the new deal is a five-year pact projected to be worth about $205MM. The extension will replace Westbrook's player option for 2018/19, running through the 2022/23 season.
Westbrook's new deal is a Designated Veteran Extension, similar to the ones signed by Stephen Curry, James Harden, and John Wall earlier this offseason. However, Curry's DVE took effect this season, while Harden's and Wall's won't begin until 2019/20, so the final numbers on Westbrook's extension will look a little different.
Westbrook's starting salary will be worth 35% of the 2018/19 salary cap. Based on the NBA's latest projection, that would work out to $35.35MM in year one, and $205.03MM in total. Taking into account Westbrook's $28,530,608 salary for 2017/18, the reigning MVP will be locked up for about $233.56MM over six years, which would be the largest contract in NBA history.
It's appropriate that Westbrook would ink a historic contract at this point in his career, since he's coming off one of the most impressive individual seasons in the history of the league. In 81 games for the Thunder last season, the star point guard averaged a league-high 31.6 PPG to go along with 10.7 RPG and 10.4 APG, making him the first player to average a triple-double since Oscar Robertson accomplished the feat in 1961/62.
Despite Westbrook's heroics, the Thunder were eliminated in the first round of the playoffs last spring. However, the team added significant reinforcements in the offseason, acquiring Paul George from the Pacers and Carmelo Anthony from the Knicks.
Westbrook's decision to sign an extension with Oklahoma City will make things interesting for George and Anthony, who both have the opportunity to reach unrestricted free agency in 2018. Westbrook will have a full season to convince George – who will likely decline his player option – to stick around for the long term in OKC. As for Anthony, he's a better bet to pick up his player option if he enjoys his time with the Thunder, since it's worth nearly $28MM, a figure he's unlikely to match on the open market.
While Westbrook's extension won't have an impact on this year's cap for the Thunder, it could create some difficult decisions down the line for the franchise. If we were to pencil in Westbrook's projected 2018/19 salary along with Anthony's option-year salary, the Thunder would have nearly $117MM in guaranteed salaries on their books for next season, and that number doesn't include George or any of the Thunder's other pending free agents or non-guaranteed players.
Still, Oklahoma City's management and ownership groups will likely worry about future team salaries and tax payments at a later date. For now, the Thunder are presumably thrilled to lock up Westbrook, about 15 months after failing to get a similar commitment from Kevin Durant.
Photo courtesy of USA Today Sports Images.