The Bulls have suspended power forward Bobby Portis for eight games for punching and injuring teammate Nikola Mirotic, tweets K.C. Johnson of The Chicago Tribune. Portis, who will be allowed to practice during his suspension, per Johnson (Twitter link), will be eligible to return on November 7 in Toronto.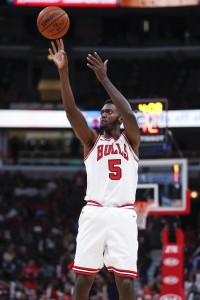 As we detailed on Tuesday and earlier today, Poris and Mirotic were involved in an incident during scrimmage that saw Portis punch his teammate, ultimately hospitalizing him. Mirotic suffered a concussion and fractured two facial bones, and is expected to be sidelined for at least a month or so. Bulls executive John Paxson said today that it will be four to six weeks before Mirotic gets back on the court (Twitter link via Johnson).
Although Mirotic was on the receiving end of the blow that ended the altercation, reports out of Chicago have suggested that both players were going back and forth at one another, exchanging words and shoves as tensions escalated during a scrimmage. The fact that Portis' suspension is only for eight games and will allow him to practice suggests that the Bulls may agree that both players were partially to blame.
Paxson said today that both players owned responsibility, adding that he wouldn't call Portis' blow a "sucker punch." However, Paxson did acknowledge that Portis crossed a line, calling his punch "inexcusable" (Twitter links via Johnson).
With Portis and Mirotic both sidelined for the near future, the Bulls may have to rely on first-round pick Lauri Markkanen more than expected in the early going. Cristiano Felicio also figures to see an increased role for the next couple weeks, though the Bulls may play smaller lineups in general, given their lack of frontcourt depth. Of course, with Kris Dunn, Cameron Payne, and Zach LaVine also on the shelf with various injuries, the Bulls aren't particularly deep in the backcourt right now either.
Chicago may have an opportunity to add an extra player to their roster next week, but the team isn't eligible for that extra spot right away. Portis can be transferred to the suspended list after the third game of his ban, opening up a spot, while the Bulls can apply for a hardship exception if they have four players miss at least three games due to injuries.
Photo courtesy of USA Today Sports Images.