One year after using their first-round pick to draft Wade Baldwin, the Grizzlies have parted ways with the young point guard. The Grizzlies have waived Baldwin, according to a team release.  Adrian Wojnarowski of ESPN reported earlier in the day that Memphis intended to waive or trade him (Twitter link).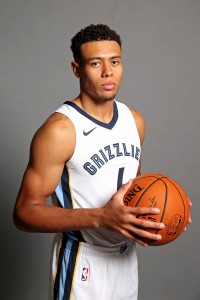 The Grizzlies also waived rookie forward Rade Zagorac to reach the 15-man regular season limit, the release adds. Wojnarowski had reported earlier (via Twitter) that the Grizzlies would be shedding Zagorac by waiving or trading him.
The Grizzlies' decisions come as a bit of a surprise. At the start of camp, it appeared that forward Jarell Martin was on the chopping block for the club, and point guard Andrew Harrison was another player whose roster spot appeared to be in danger.
With Memphis waiving Baldwin and Zagorac, there will be room to carry both Martin and Harrison, along with veteran point guard Mario Chalmers, who has a small ($25K) partial guarantee on his contract. Wojnarowski has confirmed (via Twitter) that Chalmers and Harrison will remain on the roster as backups to starting point guard Mike Conley. Chalmers' minimum salary deal will become fully guaranteed if he remains under contract through Wednesday.
The optics of the moves aren't great for the Grizzlies, who drafted Baldwin a year ago using the 17th overall pick. He's owed a guaranteed $1,874,400 salary this season, but the club won't be on the hook for any future salary, since his $1,955,160 team option for 2018/19 hadn't been picked up.
The Grizzlies will actually owe more guaranteed money to Zagorac, another 2016 draftee, who was stashed for one year and then signed a partially guaranteed three-year deal this offseason. The 35th overall pick in 2016, Zagorac will be owed $950K this season and $1,378,242 in 2018/19. His third-year team option for 2019/20 is non-guaranteed.
This marks the second straight preseason in which the Grizzlies have given up on a former first-round pick still on his rookie contract. A year ago, the team waived 2014 first-rounder Jordan Adams as part of its roster cutdowns.
Photo courtesy of USA Today Sports Images.