The Clippers are in a precarious position, now teetering on the ledge of an existential crisis following Blake Griffin's latest significant injury. Suddenly, the team that seemed so valiantly intent on forging ahead without Chris Paul (and then Milos Teodosic and then Patrick Beverley) has been dramatically deflated, dealt a seemingly insurmountable blow that could very well change the franchise's short-term plans.
Needless to say, the next few months will be of particular interest to various representatives of the team's pending free agents, several of whom could stand to benefit from increased playing time in Griffin's absence and/or a significantly expanded role if the team decides to lean into a full-fledged rebuild and trade away veterans.
On paper, the Clippers could end up with substantial cap space, but that's far from guaranteed considering how many players have options heading into the summer.
Montrezl Harrell, C, 24 (Up) – Signed to a three-year, $4MM deal in 2015
One of the biggest potential beneficiaries of the Clippers' bad luck is Harrell, a 2015 second-round pick who showed glimpses of productivity throughout his first two seasons in the league with Houston. Harrell hasn't done much to this point in the 2017/18 season but it seems inevitable that he'll see his playing time and opportunities in general increase over the next two months.
Brice Johnson, PF, 24 (Down) – Signed to a two-year, $3MM deal in 2016
While the absence of Griffin could open up opportunities for Johnson to see more of a role at the big league level, the team would have to fully accept a rebuild in order for the sparsely-used North Carolina product to start seeing consistent action. I'm not sure if the Clips are there yet. Simply put, Johnson hasn't show much in Los Angeles and the team forfeited the chance to lock him up on the cheap last month when it turned down his rookie option.
Wesley Johnson, SF, 30 (Down) – Signed to a three-year, $18MM deal in 2016
After eight underwhelming seasons in the NBA, it's hard to imagine Johnson landing big money in a crowded free agent market next summer. However, the 30-year-old – who has career averages of 7.6 points and 3.7 rebounds per game – has a player option worth over $6MM that he'll presumably accept.
DeAndre Jordan, C, 29 (Down) – Signed to a four-year, $88MM deal in 2015
Jordan is the closest thing to a marquee name among Los Angeles' pending free agents. The 29-year-old will be coming off of seven straight seasons as a rain-or-shine starter (10 in total), with off-the-charts rebounding numbers and an All-Star Game under his belt. That being said, Jordan  – who holds a $24MM player option for next season – will need to be careful heading into the summer, considering the market for big men has changed since he signed his last contract. On top of that, any long-term deal would put a club at risk of having that contract turn into an albatross during its back half. Finally, it's not inconceivable to suggest that the Jordan you could temporarily (kinda, maybe, possibly) justify maxing out was simply a product of CP3's playmaking abilities. Jordan may very well end up turning down his player option, but there won't likely be strong market pressure for L.A. or anybody else to offer a huge long-term deal.
Willie Reed, C, 28 (Up) – Signed to a one-year, $2MM deal in 2017
Now with his third team in three NBA season, Reed will need to show that he's more than just a journeyman spot starter with legal baggage. While Reed has been used less with the Clippers than he was in Miami last season, his opportunities could increase substantially with Griffin sidelined. I suspect, given the big man's per-36 numbers, he'll be able to procure more than the minimum and stick with that team for longer than a single season.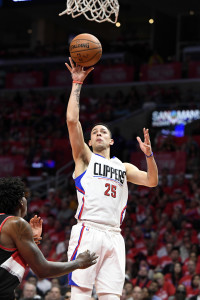 Austin Rivers, G, 25 (Down) – Signed to a three-year, $35MM deal in 2016
The Clippers took a gamble on Rivers in 2016, offering the largely unproven combo guard a major contract without much of a track record to show for it. Fast forward two seasons and Rivers remains more or less equally underwhelming. Rivers does little across the board and isn't a particularly effective shooter. It wouldn't make much sense for Rivers' camp to turn down his $13MM player option for next season.
Milos Teodosic, PG, 31 (Down) – Signed to a two-year, $12MM deal in 2017
It's hard to gauge Teodosic's NBA value, considering he only played two games before falling to a foot injury. As things stand, the romantic notion that Teodosic would drop in from overseas to fill the playmaking hole left by Paul is on the back burner. If the plan was for Teodosic to prove himself in his rookie season, turn down his player option for 2018/19 and then sign a larger contract, it'll come down to how he fares during the second half of the season, since nobody has yet seen enough to warrant a big investment. It seems likely that the Serbian 31-year-old will be back in the lineup before the end of December, so there's plenty of time for him to prove himself at the NBA level.
Lou Williams, SG, 32 (Up) – Signed to a three-year, $21MM deal in 2015
Over course of the last half decade, Williams has fully embraced an identity as a wildly prolific scorer off the bench. Over the course of the last two seasons alone he's thrived in systems that have had no reason but to let him loose on their second unit and the volume shooter has shown no signs of slowing down north of 30. It may be a bit much to expect Williams to yield anything in the realm of former Clipper J.J. Redick's offseason haul ($23MM for a one-year deal with Philly) but there should be plenty of suitors willing to give 2015's Sixth Man of the Year a sizable raise over his current $7MM salary.
Player ages as of July 1, 2018. Photo courtesy of USA Today Sports Images.