NBA rosters will undergo some changes over the course of the 2017/18 season, particularly around the trade deadline, and those changes may have an impact on teams' cap sheets for future seasons. Based on the NBA's current rosters, however, we can identify which teams are most and least likely to have cap room in the summer of 2018, which will dictate the type of moves those clubs can make in the offseason.
We're taking a closer look at each of the NBA's 30 teams by division this week. Today, we're tackling the Southeast division. With the help of salary information compiled by Basketball Insiders, here's how the summer of 2018 is shaping up for the five Southeast teams:
Miami Heat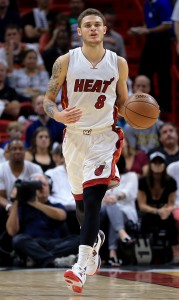 Guaranteed 2018/19 team salary: $117,444,952
Projection: Over the cap
Since the start of the 2016 offseason, the Heat have handed out lucrative long-term contracts to Hassan Whiteside, James Johnson, Dion Waiters, Kelly Olynyk, and Josh Richardson. It will be Tyler Johnson's deal that will be the toughest to swallow in 2018/19 though. Because of the way his 2016 offer sheet from the Nets was structured under the old CBA, Johnson's cap charge will jump from about $5.88MM this season to $19MM+ next year.
Barring major cost-cutting moves, the Heat will be well over the cap in 2018/19, and may end up surpassing the luxury tax line too.
Charlotte Hornets
Guaranteed 2018/19 team salary: $116,377,251
Projection: Over the cap
The Hornets have six players on their roster set to make at least $12MM apiece in 2018/19, including two – Nicolas Batum and Dwight Howard – earning about twice that. Most of those contracts won't be easy to move, and Charlotte won't want to dump the more team-friendly salaries from that group, like Kemba Walker's $12MM expiring deal. As such, we can expect the Hornets to head into the 2018 offseason as an over-the-cap club.
Washington Wizards
Guaranteed 2018/19 team salary: $115,896,497
Projection: Over the cap
Despite the fact that John Wall's super-max extension won't go into effect until 2019/20, the Wizards have nearly $116MM committed to just eight players next season. Even if the team were to trade a non-core player on an eight-figure salary, such as Ian Mahinmi or Marcin Gortat, it wouldn't be enough to create meaningful cap space.
Orlando Magic
Guaranteed 2018/19 team salary: $78,180,655
Projection: Up to approximately $19.5MM in cap room
The summer of 2018 will be a good test for just how attached the Magic's new front office is to the old regime's top draft picks. Aaron Gordon and Elfrid Payton will be restricted free agents, and if Orlando intends to retain both players – or even just Gordon – the team's cap room will disappear. Letting Gordon and Payton walk and waiving Shelvin Mack and his non-guaranteed salary would get the Magic up to nearly $20MM in cap space.
Atlanta Hawks
Guaranteed 2018/19 team salary: $56,232,915
Projection: Up to approximately $41MM in cap room
The Hawks' maximum available cap space for 2018 will hinge in part on whether Dewayne Dedmon and Mike Muscala decide to pick up their respective player options. Those options being exercised would reduce the Hawks' max cap room to about $31MM, which would still be more than enough to make a major addition or two — or to take on a couple undesirable contracts along with picks or young players, if Atlanta isn't ready yet to accelerate its rebuilding timeline.
Previously:
Photo courtesy of USA Today Sports Images.