The Suns and Bucks have finalized a trade that sends Eric Bledsoe to Milwaukee in exchange for Greg Monroe, a 2018 first-round pick, and a 2018 second-round pick. Adrian Wojnarowski and Zach Lowe of ESPN first reported the deal, which has now been officially confirmed by both the Suns and Bucks.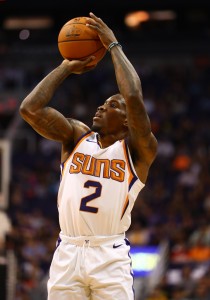 Bledsoe had been publicly on the trade block since the first weekend of the season, when he published a tweet that read "I don't wanna be here" after the Suns lost their first three games. The veteran point guard had previously – and privately – expressed a desire to be traded, and Phoenix had explored potential deals at that time. However, Bledsoe's tweet forced the issue, and the team responded by sending him home and pursuing deals more aggressively.
Bledsoe, who will turn 28 next month, is coming off a career year for the Suns in 2016/17. He recorded 21.1 PPG, 6.3 APG, 4.8 RPG, and 1.4 SPG in 66 contests (all starts) before the team shut him down as part of its tanking effort down the stretch. The Suns' handling of Bledsoe at the end of the season is likely one reason why the former first-round pick wasn't thrilled with his situation this year.
As trade rumors swirled around Bledsoe, the Bucks were frequently cited as a potential suitor, with Milwaukee and Denver viewed as the most likely landing spots for the disgruntled point guard. So far this season, Malcolm Brogdon has been playing regular minutes at the point guard spot for the Bucks, with Matthew Dellavedova getting the backup minutes and Giannis Antetokounmpo also assuming some ball-handling duties in a point forward role. With Bledsoe entering the mix, Brogdon may begin to see more action at the two.
From an on-court perspective, Monroe doesn't seem like a fit in Phoenix, considering the team's frontcourt is already pretty crowded. Alex Len and Tyson Chandler are the Suns' current centers, though Chandler is a trade candidate. Even if the club hangs onto Chandler, the unbalanced roster isn't a major issue, since the Suns aren't in win-now mode. It will be more interesting to see if the Bucks' frontcourt holds up without Monroe, who played well last season. Milwaukee has been leaning more heavily on John Henson, Mirza Teletovic, and Thon Maker while Monroe has been sidelined with a calf injury.
Monroe is earning $17,884,176 this season and is in the final year of his contract, while Bledsoe is making $14.5MM and has one additional year left at $15MM. The deal will reduce Milwaukee's team salary by more than $3MM, moving the club comfortably away from the luxury tax threshold. The Bucks will also get a trade exception worth $3,384,176.
However, the team now has about $106MM on its books for 2018/19, without taking into account a qualifying offer or a new contract for Jabari Parker, who will be a restricted free agent. If the Bucks hope to re-sign Parker, they may need to move another contract to avoid becoming a taxpayer.
As for the Suns, they won't mind taking on a little extra money in the swap, since they still have a significant chunk of cap room. The deal should get their team salary above the required floor for 2017/18, and by trading Bledsoe for Monroe, the Suns also remove $15MM in guaranteed salary from their books for 2018/19, increasing their flexibility to make moves next summer.
Finally, the two draft picks included in the deal include some unusual protections. As first reported by Matt Velazquez of The Milwaukee Journal Sentinel (Twitter link), the second-rounder is top-47 protected. If the second-rounder doesn't change hands in 2018, it appears the Bucks' obligation relating to that pick would be extinguished.
As for the first-rounder, the Suns have confirmed the details initially reported by John Gambadoro of Arizona Sports 98.7 (Twitter links), who describes the protection on that pick as follows:
Suns receive pick in 2018 it falls between Nos. 11 and 16.
If Suns don't receive 2018 pick, they'll receive pick in 2019 if it falls between Nos. 4 and 16.
If Suns don't receive 2019 pick, they'll receive 2020 pick (top-7 protected).
If Suns still haven't received pick after 2020, they'll receive unprotected 2021 pick.
In addition to potentially landing Milwaukee's pick in 2018, Phoenix will have its own first-rounder and Miami's (top-seven protected) for next year's draft.
Photo courtesy of USA Today Sports Images.