After years of being a beloved up-and-coming Western Conference hopeful, the Nuggets have lost some of their sheen due to circumstances somewhat out of their control. The franchise made its intentions clear by signing Paul Millsap to a contract north of $31MM this season, which only adds to the frustration caused by a relatively mediocre start.
The Nuggets had their hands full adding Millsap to the fold alongside 22-year-old Nikola Jokic, so we can't exactly fault the club for getting out to a slow start, but – at just 16-15 – they have. When word broke that the 32-year-old free agent would miss months with a wrist injury, the outlook grew even more bleak.
All told, the Nuggets may not be quite as mysteriously captivating as they were in the past, but that doesn't mean they can't still be a solid team eventually given the still-very-much intriguing young pieces that dot the roster.
Darrell Arthur, PF, 30 (Down) – Signed to a three-year, $23MM deal in 2016
While Arthur has played nine seasons with just two NBA franchises, carving out a role as a consistently reliable rotation player on both despite never logging more than the 21.7 minutes per game, his pedestrian career marks of 6.6 points and 3.6 rebounds per game aren't likely to yield much on the open market. For that reason, expect him to pick up his $7.5MM player option.
Will Barton, SG, 27 (Up) – Signed to a three-year, $10MM deal in 2015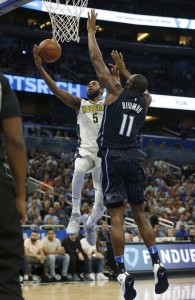 In three and a half seasons with the Nuggets, Barton has made a name for himself as a solid spark plug off the bench. The soon-to-be 27-year-old unrestricted free agent will hit the open market in July and seems likely to command more from another suitor than the Nuggets would be comfortable matching given the other building blocks they'll need to commit to.
Wilson Chandler, SF, 31 (Down) – Signed to a four-year, $47MM deal in 2015
Despite having a career year in 2016/17 and starting every game of the season for the Nuggets so far this year, Chandler isn't a major part of Denver's long-term plans. Given that we may see more penny pinching next summer than we did the last two because of a league-wide dearth of cap room, it's hard to imagine the forward landing more than what he'll be able to get just by accepting the $13MM player option he has for $2018/19.
Richard Jefferson, SF, 38 (Down) – Signed to a one-year, $2MM deal in 2017
After landing with the Nuggets on a minimum deal following his release from the Cavaliers at the start of the season, Jefferson will hit free agency once again next summer. At the ripe age of 38, no longer privy to the luxuries of competing for a championship, don't put it past the podcasting superstar to retire.
Nikola Jokic, C, 23 (Up) – Signed to a four-year, $6MM deal in 2015
The Nuggets have options for dealing with Jokic's inevitable free agency. There's no denying that the affable big man with a 24.1 career PER will command max money whenever he's eligible to sign a new deal — whether that happens next summer or the one after that is the question. Denver holds a team option for Jokic's 2018/19 campaign. While they could technically turn down his team option and look to lock him up as a restricted free agent in 2018, the Nuggets are already flirting with the luxury tax for next season without a monster Jokic deal on their books (or a possible Barton deal, for that matter). The front office could be better suited accepting the team option and then making a major play for the big man in 2019, once the contracts of Chandler, Arthur and Kenneth Faried expire. Still, there are optics to think about in that scenario. Regardless, Jokic has earned big money, so let's pull up some chairs and watch how Tim Connelly and Arturas Karnisovas try to figure this out.
Photo courtesy of USA Today Sports Images.