The Hornets are committed to a core that hasn't been able to get the franchise over the hump and likely won't be able to do so as key components of the rotation age out of their primes.
Much of the organization's most recent woes can be attributed to injuries and health-related struggles but week-by-week that plucky, purple-shirt-guy-inspired squad that pushed the Heat to seven games in the first-round of the 2016 postseason seems like a distant memory.
Making matters worse for Hornets fans is that there isn't exactly help in sight. The club projects to break camp close to $20MM over the salary cap and the contracts set to come off their books don't represent much relief.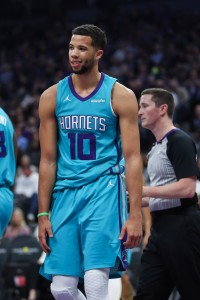 Michael Carter-Williams, PG, 26 (Down) – Signed to a one-year, $2.7MM deal in 2017
Desperate for a reliable backup point guard, the Hornets tried their luck on a former Rookie of the Year. Still just 26 years old, Carter-Williams was an intriguing option to be had for the minimum but bringing him back after a (thus far) career-worst shooting year is a different story. In theory Carter-Williams can fill the stat sheet if given an opportunity, but it's hard to imagine he's moved the needle enough at this point in the season to convince the front office to bring him back.
Johnny O'Bryant, PF, 24 (Up) – Signed to a two-year, $1.7MM deal in 2017
The Hornets, in need of healthy bodies to round out their rotation, have plugged O'Bryant into a bigger role of late and the forward has done a respectable job of producing in the time that he's been given. If Charlotte continues to struggle in 2018, expect the organization to feature their younger players more often. That's a perfect recipe for O'Bryant to make his case as one of the few in-house growth opportunities the franchise has available.
Photo courtesy of USA Today Sports Images.