The blockbuster trade that sends Blake Griffin from Los Angeles to Detroit is now official. The deal will significantly shape the futures of both the Clippers and Pistons, so there are countless aspects of it worth discussing. We're going to use this space to focus on a few minor details, as we examine the salary cap minutiae involved in the trade.
Let's dive in…
Three trade exceptions created: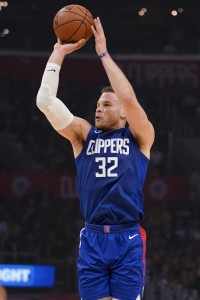 Even in a trade where each team sends out and receives the same number of players, the deal can be structured in ways that are designed to create traded player exceptions.
[RELATED: Outstanding NBA Trade Exceptions]
The trade rules in the NBA's Collective Bargaining Agreement allow teams to take back 125% of their outgoing salary (plus $100K) in a trade when the outgoing salary exceeds $19,600,000. So from the Clippers' perspective, sending out Griffin's $29,512,900 salary allowed the team to comfortably take on the $31,808,989 in combined salary for Tobias Harris, Avery Bradley, and Boban Marjanovic.
Since the inclusions of Willie Reed and Brice Johnson weren't actually required for salary-matching purposes, those players were essentially traded for "nothing" from the Clippers' point of view. That means that L.A. can create two trade exceptions, one worth Reed's salary ($1,471,382) and one worth Johnson's salary ($1,331,160). Those TPEs are pretty modest, so they may end up going unused, but they'll be available for a year.
As for the Pistons, they'll structure the trade a little differently. Combining Harris' $16,000,000 salary with Bradley's $8,808,989 cap hit would allow the team to take back up to $31,111,236 (125% plus $100K). Griffin's $29,727,900 cap charge and Johnson's $1,331,160 cap charge add up to $31,059,060 — success! As for Reed, the Pistons don't need to worry about matching his incoming salary since he's on a one-year, minimum salary contract — that means Detroit can take him on using the minimum salary exception, which can be used to sign players or to acquire them in trades.
That leaves Marjanovic, whose inclusion wasn't required for salary-matching purposes from the Pistons' perspective. As such, Detroit can create a trade exception worth Marjanovic's $7,000,000 salary. That TPE is a little more interesting, especially since the Pistons figure to be well over the cap for the next year. They'll have until January 29, 2019 to use it.
(Note: The Clippers could technically create another trade exception worth $4,703,911 in this deal. However, doing so would mean sacrificing the $7,273,631 TPE they acquired in last June's Chris Paul trade. If they went that route, they'd essentially be extending the exception's availability by seven extra months, but reducing its value by nearly $2.6MM. ESPN's Bobby Marks suggests (via Twitter) they won't do that.)
Blake gets a bonus:
If you were following closely above, you'll have noticed that I listed two different amounts for Griffin's 2017/18 salary. That's because his contract included a trade kicker, which allows him to collect a modest bonus as a result of Monday's swap.
Griffin's trade kicker was worth 15% of his contract, but his bonus will ultimately be far less than that. A trade bonus can't increase a player's salary beyond the maximum salary, which for Griffin this season is $29,727,900. The longtime Clipper had been earning just $215,000 below that max, so that will be the amount of his bonus, applied annually for the next four years, for a total of $860,000. The bonus isn't applied to the fifth year of his contract, since it's a player option.
For salary-matching purposes, as calculated above, the Clippers used Griffin's old cap hit ($29,512,900), while the Pistons had to use his new one ($29,727,900).
Clippers create cap flexibility; Pistons sacrifice it
Because Griffin's contract still has four years and $142MM+ left on it after this season, the long-term salary cap outlook for each team involved in this deal has been altered drastically. Harris and Marjanovic remain under contract through 2018/19, so the deal won't have a major impact on potential 2018 cap room (though the Clippers did create a bit more flexibility by acquiring Bradley's expiring deal).
Instead, the summer of 2019 looks like the one to watch for now. Griffin is set to earn $34,449,964 in 2019/20, while the Harris, Marjanovic, and Bradley contracts will all have expired by that offseason. In other words, the Clippers created enough extra potential 2019 cap room to sign nearly any player in the NBA. Currently, Danilo Gallinari's $22,615,559 salary is the only guaranteed money on L.A.'s cap for '19/20.
As for the Pistons, they may flirt with the luxury tax again in 2018/19, since the deal leaves them with $111,974,245 in guaranteed money already on their books. And assuming rookie scale options for Luke Kennard and Henry Ellenson are exercised, the Pistons already have $108,487,008 on their cap for 2019/20. Barring major changes, the team won't have a chance to use cap space anytime soon.
Both teams avoid the tax
A deal of this magnitude wasn't easy for either team, given their proximity to the luxury tax line. The Pistons entered Monday within about $2-3MM of the tax threshold of $119,266,000; the Clippers were even closer. As such, the incoming and outgoing 2017/18 salary for each team had to be nearly identical to allow them to avoid going into tax territory. They were able to do just that, with the Clips sending out a total of $32,315,442 and receiving $31,808,989.
The Clippers are now about $629K below the tax line, per Bobby Marks, which gives the team the ability to fill its 15th roster spot down the stretch without becoming a taxpayer. The club's razor-thin margins illustrate why Reed and Johnson had to be included in the trade — taking out either player would have put L.A. over the tax line.
Avery Bradley still a trade candidate?
It remains to be seen what the Clippers' plan is for Bradley, who is the only key player involved in this deal who will reach free agency this summer (Reed and Johnson are also on expiring contracts, but aren't major pieces in this trade). Bradley's Bird rights will go along with him to Los Angeles, so the Clips would have the ability to offer the veteran guard any amount up to the max without having to earmark cap room for such a deal.
However, if the Clippers don't view Bradley as a long-term building block, it's also possible he could be moved again before the February 8 trade deadline. CBA rules prevent L.A. from aggregating Bradley's salary with another player's salary to accommodate a trade within the next two months, but he's eligible to be traded on his own. The Clips are known to be exploring possible trades involving DeAndre Jordan and Lou Williams, so it will be interesting to see if Bradley's name comes up in those discussions too.
Photo courtesy of USA Today Sports Images. Salary information from Basketball Insiders was used in the creation of this post.