11:46pm: The trade is now official, according to a press release issued by the Pistons.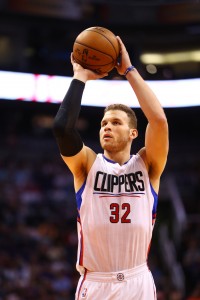 "We are serious about winning, and this is a major move to improve our team," Pistons owner Tom Gores said in a statement. "Blake Griffin is one of the NBA's elite players, and when you get an opportunity to add that kind of talent, you take it. … He is a great fit for our team and will bring a combination of toughness and athleticism that will elevate our team and excite our fans."
5:20pm: The Clippers have agreed to trade star power forward Blake Griffin to the Pistons in a multi-player deal, Adrian Wojnarowski of ESPN tweets. Detroit will ship forward Tobias Harris, shooting guard Avery Bradley, center Boban Marjanovic, a first-round pick and a second-round draft pick to the Clippers, Wojnarowski adds, citing league sources.
Forward Brice Johnson and center Willie Reed are also heading to Detroit, Wojnarowski adds in another tweet.
Detroit's 2018 first-round pick is protected if it's a top-four selection, according to Wojnarowski; It has the same protection for the next two drafts, then goes unprotected in 2021. The second-round pick in the trade will come in the 2019 draft (Twitter link).
The Pistons, long rumored to be active on the trade market, have been trying to shake up their team while nosediving down the Eastern Conference standings. They have lost eight in a row and now sit in the ninth spot in the East. Wojnarowski had reported just hours ago that Detroit was shopping Bradley and his expiring contract.
Griffin re-signed with the Clippers on a five-year max deal over the summer, so the Pistons are taking on an enormous salary commitment in order to pair him with current franchise player Andre Drummond. Griffin is making $29.5MM this season and he'll be due another $141.6MM over the next four years, though the final year of the contract includes a player option.
The longtime Clipper will also receive a $860K trade bonus spread over the next four seasons, salary-cap expert Bobby Marks of ESPN tweets. The Griffin trade bonus is not voided because his current salary is slightly below the max, Marks adds.
The Clippers are in the playoff hunt at 25-24, so dealing Griffin certainly signals a change in the franchise's long-term direction. It's possible that this will be the first of multiple moves for the Clippers, since players like DeAndre Jordan and Lou Williams have also been considered potential trade candidates.
Aside from Drummond, who is making approximately $23.8MM this season, Harris and Reggie Jackson are Detroit's highest-paid players at $16MM this season. Bradley is making $8.8MM and Marjanovic is pulling in $7MM this season. Johnson is earning approximately $1.3MM and Reed has a $1MM contract this season.
Both teams are hard-capped and near the luxury-tax line, as Marks notes in a tweet, so it was crucial that each team sent and received about the same amount of money.
The Clippers will get cap relief in the long run as the contracts of Harris and Marjanovic expire after the 2018/19 season. Once this deal is finalized, Danilo Gallinari's contract will represent the only guaranteed money on L.A.'s cap beyond 2019.
Photo courtesy of USA Today Sports Images.