The Pacers are in an enviable position mere months after it seemed like they were doomed to a long and challenging rebuild. The breakout seasons enjoyed by Victor Oladipo and Domantas Sabonis have helped distract from the absence of Paul George while the all-around contributions of an unheralded, cohesive veteran lineup has put Indiana firmly in the Eastern Conference playoff picture.
The Pacers didn't make a major splash at the trade deadline and were even asked specifically by players to avoid tinkering with the chemistry in the locker room. While it's hard to argue that the franchise made the wrong call standing pat with a roster that's punched above its weight on a nightly basis, the Pacers have a long road ahead of them before they're considered serious challengers, even in the East.
It's refreshing to see a team build anew without bottoming out. Solid drafting and some responsible payroll management will help them climb to the next rung on the ladder.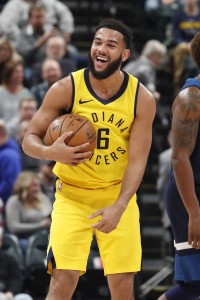 Cory Joseph, PG, 26 (Up) – Signed to a four-year, $29.9MM contract in 2017
Joseph has thrived as the younger half of a point guard tandem charged with the task of helping the Pacers play a faster style of basketball. While he's ceded the majority of the starts so far this season to Darren Collison, Joseph is a solid rotation piece and possible future starter. It's likely we've already caught a glimpse of his ceiling, so the former Raptors probably won't draw major money on the open market. That being said, it's hard to imagine he couldn't procure a raise if he turns down his 2018/19 player option worth just less than $8MM.
Glenn Robinson III, SF, 24 (Up) – Signed to a three-year, $3.4MM contract in 2015
After breaking into Indy's rotation in 2016/17, an ankle injury put Robinson III's latest campaign on hold until after the All-Star Game. The Pacers may see some upside in the former second-round pick, and likely won't have to outbid many competitors to retain his services should they wish to do so. Assuming the swingman's health holds up in the final stretch of 2017/18, expect the club to lock him in for at least a few more seasons at an affordable rate. At this stage in the game, the Pacers can justify the low-risk, medium-reward lottery ticket.
Lance Stephenson, SG, 27 (Up) – Signed to a three-year, $12.6MM deal in 2017
While Stephenson's career took a turn for the worse after he flew the coop in 2014, his return to Indiana has helped restore his value as a professional basketball player. The 27-year-old may not be the irreplaceable triple-double machine the Hornets hoped he would be when they poached him from Indiana four years ago, but he's a solid rotation piece whose contributions to the Pacers franchise are both mysterious and intangible. Expect the club to bring their enigmatic swingman back on his dirt-cheap $4.4MM team option.
Joe Young, PG, 26 (Down) – Signed to a four-year, $5.1MM deal in 2015
The Pacers have never seemed particularly intent on working Young into their rotation. While you could argue that a consistently competitive squad like Indiana may be inherently reluctant to throw big minutes at an inexperienced point guard, he only topped the 20-minute plateau four times during his first two years in the league. The 25-year-old has seen an uptick in usage since Collison went down with a knee injury in early February, but the club may be better off turning down his team option and seeing what else they could do with the roster spot.
Thaddeus Young, PF, 30 (Down) – Signed to a four-year, $53.9MM deal in 2015
Young has established himself as a critical component of this Pacers team and fills the role of do-everything veteran forward admirably. While the almost-30-year-old's services would be welcomed by several other contending teams, it's hard to imagine Young's camp being all that confident they'd land more than $13.8MM in a bear market. If Indiana was knee deep in the turbulent rebuild many expected, it would make sense for Young to take that chance, but given that the opposite is true, I anticipate him accepting the 2018/19 player option and returning as a leader on and off the court.
Photo courtesy of USA Today Sports Images.