The Pistons made it clear with their midseason blockbuster that they're interested in competing in the Eastern Conference right away. While we won't truly know the outcome of the Blake Griffin trade until the roster logs a full, reasonably healthy season together, there's no denying that the franchise is committed to this core for better or worse.
With over $117MM already on the books for 2018/19, president Stan Van Gundy and general manager Jeff Bower have little room to get cute in free agency this summer. For that reason, the Pistons will have to rely primarily on in-house upgrades, and any reinforcements that do come from elsewhere will need to be modest.
James Ennis, SF, 28 (Down) – Signed to a two-year, $6MM deal in 2016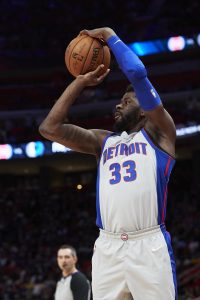 The Pistons brought Ennis aboard in one of their deadline-day deals, seemingly desperate to pad their core with solid veterans. While Ennis is typically a glue guy, capable of knocking down shots and contributing defensively, it's hard to imagine that he showed enough during his half-season in Detroit to justify a raise — or even a similar contract to his current deal. The Pistons could benefit from having Ennis' toughness on the perimeter as they look to establish themselves in the East, but they could probably seek out that skill-set on the cheap if they want to trim their overall payroll.
Jameer Nelson, PG, 36 (Down) – Signed to a one-year, $2MM deal in 2017
One can't fault Van Gundy for turning to a former pupil to help his current team take the next step, but the acquisition of Nelson has to be considered – by and large – a disappointment. The veteran point guard only played seven games during his time with the Pistons and was usurped on the depth chart by Dwight Buycks. With Reggie Jackson back in the fold for 2018/19, the team will already have three relatively capable options at the point, leaving little room for Nelson.
Anthony Tolliver, PF, 32 (Up) – Signed to a one-year, $3MM deal in 2017
It was a disappointing season for the Pistons, but one consistent presence that helped provide stability as the club dealt with injuries and personnel turnover was Tolliver. Fresh off the second-highest scoring year of his 10-year career, Tolliver will be an intriguing free agency option for contenders looking to add veteran leadership. He stepped up in 2017/18, showing that he's more than just a solid locker-room presence, shooting 43.3% from beyond the arc while registering an offensive rating of 125. If the Pistons truly plan on breaking into the postseason picture next season, they'd be wise to bring the 32-year-old combo forward back, since he can fit into whatever role or position the team needs.
Photo courtesy of USA Today Sports Images.