A year ago at this time, Chris Paul, Blake Griffin, and DeAndre Jordan were all still members of the Clippers. Now, Paul and Griffin are long gone, and it's possible that Jordan – who holds a player option – will follow them out the door. The Clippers are in the midst of a transition period, and while they still don't project to have a ton of cap room this summer, parting ways with Paul and Griffin created some long-term flexibility.
Here's where things currently stand for the Clippers financially, as we continue our Offseason Salary Cap Digest series for 2018:
Guaranteed Salary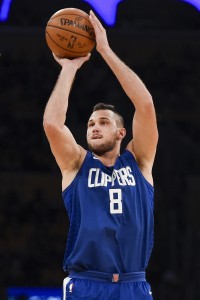 Danilo Gallinari ($21,587,579)
Tobias Harris ($14,800,000)
Lou Williams ($8,000,000)
Boban Marjanovic ($7,000,000)
Sam Dekker ($2,760,095)
Jawun Evans ($1,378,242)
Sindarius Thornwell ($1,378,242)
Carlos Delfino ($650,000) — Waived via stretch provision
Miroslav Raduljica ($252,043) — Waived via stretch provision

Total: $57,806,201

Player Options
DeAndre Jordan ($24,119,025)
Austin Rivers ($12,650,000)
Milos Teodosic ($6,300,000)
Wesley Johnson ($6,134,520): Will be exercised
Total: $49,203,545
Team Options
Non-Guaranteed Salary
Restricted Free Agents
Unrestricted Free Agents / Other Cap Holds
Avery Bradley ($13,213,484): Bird rights
No. 12 overall pick ($3,179,248)2
No. 13 overall pick ($3,020,246)3
Total: $19,412,978
Projected Salary Cap: $101,000,000
Projected Cap Room: $13,182,757

With four veterans holding player options, there are a number of potential scenarios in play for the Clippers' cap outlook this summer. For our cap projection, we've counted the team's seven guaranteed salaries, Beverley's non-guaranteed salary, cap holds for the two lottery picks, and Rivers' and Johnson's player-option salaries. The Clips' total team salary in that scenario is $87,817,243.
This projection assumes that Jordan and Teodosic both opt out, which is far from a lock. If either player opts in, L.A. will most likely operate as an over-the-cap team, barring other trades and/or cuts.
If they want to clear as much cap room as possible for a run at a star, the Clippers could technically get up to about $33.7MM without trading or stretching guaranteed salaries. However, that would mean trading their first-round picks, waiving Beverley, and counting on all three of Jordan, Rivers, and Teodosic to opt out. That's probably not realistic.
Footnotes:
Williams' exact contract details, including guarantee info, aren't yet known.
This pick, acquired from the Pistons, is top-three protected, so the Clippers would lose it if it jumps into the top three in the draft lottery. It could also end up as low as No. 14 ($2,869,353).
The Clippers are 13th in the draft lottery standings. They could end up picking as high as No. 1 ($8,095,595) and as low as No. 14 ($2,869,353).
Note: Rookie scale cap holds are estimates based on salary cap projections and could increase or decrease depending on where the cap lands.
Salary information from Basketball Insiders was used in the creation of this post. Photo courtesy of USA Today Sports Images.