The Jazz lost out on last summer's top free agent, as Gordon Hayward left Utah for Boston. However, a Rookie of the Year candidate (Donovan Mitchell) and a Defensive Player of the Year candidate (Rudy Gobert) made sure that the team didn't take a step back in 2017/18. Still, after being handily defeated in the Western Conference Semifinals for a second straight spring, Utah will enter the 2018 offseason looking for ways to raise the ceiling of its roster.
Here's where things currently stand for the Jazz financially, as we continue our Offseason Salary Cap Digest series for 2018:
Guaranteed Salary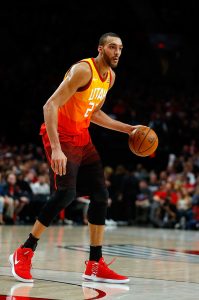 Rudy Gobert ($23,491,573)
Ricky Rubio ($14,975,000)
Joe Ingles ($13,045,455)
Alec Burks ($11,536,515)
Jae Crowder ($7,305,825)
Donovan Mitchell ($3,111,480)
Tony Bradley ($1,679,520)

Total: $75,145,368

Player Options
Team Options
Non-Guaranteed Salary
Thabo Sefolosha ($5,250,000)1
Jonas Jerebko ($4,200,000)2
Ekpe Udoh ($3,360,000)3
David Stockton ($1,544,951)4
Royce O'Neale ($1,378,242)
Total: $15,733,193
Restricted Free Agents
Dante Exum ($4,333,931 qualifying offer / $14,977,156 cap hold): Bird rights
Raul Neto ($1,839,228 qualifying offer / $1,839,228 cap hold): Bird rights
Total: $16,816,383

Unrestricted Free Agents / Other Cap Holds
Projected Salary Cap: $101,000,000
Projected Cap Room: None

The Jazz aren't typically major players in free agency, so our cap projection assumes they won't make an effort to create cap room this summer. With $75MM+ in guaranteed contracts and a $2MM cap hold for their first-round pick, the Jazz would almost certainly remain an over-the-cap team if they re-sign Exum and Favors and bring back some or all of their players on non-guaranteed contracts.
On the other hand, if the Jazz do want to clear cap space, they could do so. Their seven guaranteed salaries along with cap charges for their first-round pick and four empty roster slots would result in a total team salary of $80,527,305. That would mean more than $20MM in cap room — but it would also mean renouncing or waiving Exum, Favors, Sefolosha, Jerebko, O'Neale, and others. That's probably not realistic.
Footnotes:
Sefolosha's salary becomes fully guaranteed after July 1.
Jerebko's salary becomes fully guaranteed after July 9.
Udoh's salary becomes fully guaranteed after July 9.
Stockton's exact contract details, including guarantee info, aren't yet known.
Note: Rookie scale cap holds are estimates based on salary cap projections and could increase or decrease depending on where the cap lands.
Salary information from Basketball Insiders was used in the creation of this post. Photo courtesy of USA Today Sports Images.