For several years following their title in 2011, the Mavericks pursued the top free agents on the market, looking to remain in contention for another championship as Dirk Nowitzki neared retirement. However, Dallas repeatedly struck out on those star free agents, finally resigning itself to embracing a rebuild in the summer of 2017, even as the clock on Nowitzki's career continued to tick.
By keeping their 2017 lottery pick and using it to draft a long-term cornerstone in Dennis Smith Jr., the Mavs showed they have the ability to be patient when it comes to shaping their roster back into a contender. Heading into the 2018 offseason, it's crucial that the team maintains that approach, avoiding the temptation to skip steps in the rebuilding process as they look to improve upon their worst record (24-58) in nearly two decades.
Here are five key questions facing the franchise this summer: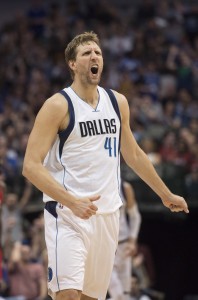 1. Is this Dirk Nowitzki's last season?

After a 14-year stretch in which he earned 13 All-Star nods, Nowitzki has seen his production decline in recent years and hasn't played in an All-Star Game since 2015. That's to be expected — he turns 40 next month and will be entering his 21st NBA season in the fall, establishing a new record for most years spent with a single franchise.
Nowitzki remains relatively productive and even stayed healthy in 2017/18, averaging 12.0 PPG and 5.7 RPG with a .456/.409/.898 shooting line in 77 games. He's certainly not wasting a roster spot, and the Mavericks will be happy to keep him under contract as long as he wants to play.
After a couple years when the Mavs made some questionable roster decisions in order to try to contend for one more title before Nowitzki retired, the team appears to have reconsidered that approach, which is the right move. If Nowitzki decides 2018/19 will be his last year, he'll get a well-deserved farewell tour, but his decision shouldn't have a real impact on the Mavs' roster decisions this summer. Dallas needs to keep adding building blocks for the post-Nowitzki era, whether that era begins in 2019 or another year or two later.
2. Will the Mavericks be back in the market for an impact free agent?

The Mavericks' list of failed free agent pursuits over the last several years is a long one. Deron Williams, Dwight Howard, DeAndre Jordan, Mike Conley, and Hassan Whiteside were among the veteran stars the Mavs were unable to land. Of the major free agents the team did lock up, two are still on the roster and neither Harrison Barnes nor Wesley Matthews looks like a particularly great value at this point.
The Mavs probably lucked out by not signing any of the players on that first list. Williams is out of the league, Howard has worn out his welcome with multiple teams, and the Jordan, Conley, and Whiteside contracts range from decent to unwanted. As for Barnes and Matthews, both are solid players, but are probably overpaid — particularly Matthews, who never looked quite the same after his Achilles injury.
The lesson here? Throwing money at veteran free agents might not be the best way to build a team. Of course, the Mavs are loaded with cap room this summer at a time when most clubs around the NBA, so it may be hard not to go after a marquee free agent. If Dallas goes in that direction, the team should be very careful about who it spends its money on.
This may be a prime opportunity to finally land a long-term center, but is DeMarcus Cousins worth a big-money investment coming off an Achilles injury of his own? Would Clint Capela continue to thrive away from Chris Paul and James Harden? Are Jusuf Nurkic or Julius Randle capable of being franchise centerpieces? All those players have question marks, so the Mavs will want to think long and hard about how to use their cap room.
3. What will the Mavericks do with the No. 5 overall pick?

If the Mavs avoid a big-money free agent, the No. 5 pick in next month's draft may be the path to solving the center question. Five players projected to be drafted in the top 10 are centers, and while Deandre Ayton won't be available at No. 5 and Marvin Bagley III may not be either, that should still leave some combination of Jaren Jackson Jr., Mohamed Bamba, and Wendell Carter Jr. on the board.
If the Mavs aren't in love with any of those players, they could draft another position or even consider trading the No. 5 pick. I don't think Dallas is far enough along in its rebuild that it's the right time to trade a top-five selection for a veteran star, but if Mark Cuban and Donnie Nelson think otherwise, that pick would have tremendous trade value. Attaching Barnes to that No. 5 pick in an offer for a star player would allow the Mavs to retain their cap room to go after a second impact player. That's probably not a likely outcome, but it's a path worth considering.
4. Will Harrison Barnes and/or Wesley Matthews be on the trade block?

Speaking of Barnes, now that he's halfway through his four-year contract in Dallas, it's worth considering how he fits into the team's long-term plans. Given the opportunity to take on an expanded role with the Mavs, Barnes has comfortably exceeded the scoring numbers he posted in Golden State, but that's more about volume than efficiency — After shooting .474/.394/.739 in his last two years as a Warrior, he has recorded a .457/.355/.843 shooting line in Dallas.
Barnes is a talented player, but his role and his contract ($24MM+ in 2018/19 with a $25MM+ player option for 2019/20) are outsized. If the Mavs get a decent trade offer for him, they should think about it, and the same goes for Matthews, who is entering the final year of his contract. Barnes and Matthews aren't elite three-point shooters, but they make enough outside shots that they could draw interest from teams who desperately need three-and-D-type wings, and Dallas should listen.
5. How can the Mavericks add more shooting?

The downside of shopping Barnes and Matthews would be the prospect of the Mavs losing two of their highest-volume three-point shooters. Vets J.J. Barea and Nowitzki are reliable options from outside, but they aren't the sort of gunners who are tossing up seven or eight attempts per game and thriving in the modern NBA.
The closest thing the Mavs have to a three-point sharpshooter is Doug McDermott, who arrived in Dallas in a deadline deal and knocked down 49.4% of his three-point attempts in 26 games with the team. However, McDermott is a free agent this summer. Because he's restricted, the Mavs will have the opportunity to match any offer sheet McDermott receives, but his status is complicated by a cap hold worth nearly $10MM, which would significantly eat into the club's available cap room.
If the Mavs turn to the free agent market for shooting, it will be interesting to see how much they're willing to spend. As the Sixers showed this season, the Marco Belinellis and Ersan Ilyasovas of the world can sometimes be had at a bargain rate, so the club may not need to go after a higher-profile target to address that need.
---
Here's where things currently stand for the Mavericks financially:
Guaranteed Salary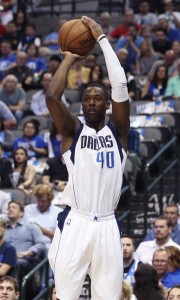 Harrison Barnes ($24,107,258)
Wesley Matthews ($18,622,514): Exercised player option
Dwight Powell ($9,631,250)
Dennis Smith Jr. ($3,819,960)
J.J. Barea ($3,710,850)
Total: $59,891,832

Player Options
Team Options
Non-Guaranteed Salary
Restricted Free Agents
Doug McDermott ($4,333,931 qualifying offer / $9,884,982 cap hold): Bird rights
Yogi Ferrell ($2,919,204 qualifying offer / $2,919,204 cap hold): Early Bird rights
Salah Mejri ($1,839,228 qualifying offer / $1,839,228 cap hold): Bird rights
Aaron Harrison ($1,753,640 qualifying offer / $1,753,640 cap hold): Non-Bird rights
Total: $16,397,054

Unrestricted Free Agents / Other Cap Holds
Nerlens Noel ($7,956,438): Bird rights
No. 5 overall pick ($5,310,672)
Seth Curry ($3,936,933): Early Bird rights
Total: $17,204,043
Projected Salary Cap: $101,000,000
Projected Cap Room: $30,809,649

Our projection for the Mavericks includes the five players with guaranteed contracts and the cap hold for their first-round pick. Throw in six cap charges for empty roster spots and the team's projected salary is $70,190,351, leaving more than $30MM to work with.
There are a few wild cards to consider here. I'm not including Nowitzki's $5MM team option — if Dallas wants to maximize its cap room, it could decline that option and ultimately bring back Dirk on a minimum-salary deal, if he's open to that. Creating the most possible cap room would also mean waiving non-guaranteed players like Finney-Smith and renouncing all the free agents, including McDermott, Curry, Ferrell, and Mejri. So in actuality, the Mavs could have far less space to work with, though it still should be enough to aggressively pursue a top restricted free agent.
Footnotes:
Finney-Smith's salary becomes fully guaranteed after July 5.
Collinsworth's exact contract details, including guarantee dates, aren't yet known.
Kleber's salary becomes fully guaranteed after July 15.
Note: Rookie scale cap holds are estimates based on salary cap projections and could increase or decrease depending on where the cap lands.
Salary information from Basketball Insiders was used in the creation of this post. Photos courtesy of USA Today Sports Images.