The Rockets committed to a certain title contention window when they traded half of their roster in exchange for Chris Paul. The deal has paid dividends considering that the addition of the future Hall of Famer has taken the franchise from solid Western Conference team in a world dominated by the Warriors to a legitimate championship contender.
For that reason, the Rockets will head into the summer with one primary goal: bringing Paul back. If, or perhaps when, that happens, the club will go about filling out the rest of the roster, likely retaining several of the rest of their pending free agents and filling out the lineup with journeymen on minimum deals.
Trevor Ariza, 33, SF (Up) – Signed to a four-year, $32MM deal in 2014
There are few intangibles guys better suited to complement the current Rockets core than Ariza but that doesn't mean general manager Daryl Morey will overextend the franchise to keep him on-board. Fortunately, he may not have to. While Ariza has serious value as the starting small forward on a very competitive roster, he's not the type of asset that rebuilding teams would pursue given his age and the price tag may be too steep for another contender, desperate to plug him in alongside their current core. Unless a lottery team foolishly dumps a pile of money on his doorstep, Ariza will be back in Houston in the $10MM range for as long as the club's title contention window is open.
Tarik Black, 26, C (Down) – Signed to a one-year, $3MM deal in 2017
Black has shown flashes of promise in spot minutes over the course of his four-year career but he's not the intriguing bargain bin scratch ticket he used to be. He's not a bad option for the cash-strapped Rockets if they can bring him back for the minimum but if there's any other organization desperate enough to offer more than that, it would make sense to let him walk.
Clint Capela, 24, C (Up) – Signed to a four-year, $6MM deal in 2014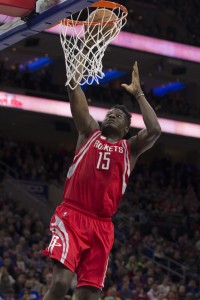 After four years as one of the most cost effective game changers in the NBA, Capela is going to get paid as a restricted free agent. Capela is young, has a proven track record of playing a major role for a serious contender and hasn't even scratched the surface of what he'd be capable of in starter's minutes. It would surprise me if Capela doesn't land a max offer sheet as a restricted free agent this summer and Houston has no choice but to match it if they want to continue being the only team with a semi-realistic chance of unseating the Warriors.
Gerald Green, 32, SG (Up) – Signed to a one-year, $1MM deal in 2017
Green went from being practically out of basketball to putting forth his most inspired NBA season in years. In 2017/18, Green went unsigned until December. I anticipate that the Houston native will be back on board with the Rockets for the veteran's minimum as soon as the dust settles on the rest of the team's summer plans.
Joe Johnson, 37, SF (Down) – Signed to a one-year deal in 2018
The Rockets took a flyer on Johnson after he was bought out of the albatross deal he signed with the Jazz in 2016 but never managed to break into the club's admittedly stacked rotation. It would make zero sense for any team to pay more than the veteran's minimum for the greybeard after three years of team changes and pedestrian production.
Luc Mbah a Moute, 31, SF (Up) – Signed to a one-year, $2MM deal in 2017
The Rockets have done a fine job of surrounding their world-class skill players with defensive-minded role players. Landing Mbah a Moute for the minimum last summer was an incredibly valuable move. It's hard to imagine that Mbah a Moute would sign for that cheap again this season seeing as he could realistically double or even triple that amount without breaking the bank for another contender. The Rockets would be happy to bring him back but may not be able to afford both he and Ariza.
Chris Paul, 33, PG (Down) – Signed to a five-year, $107MM deal in 2013
It wasn't long ago that Paul seemed destined to sign a super max contract with the Clippers and retire a franchise legend. Fast forward to the summer of 2018 and we're living in an entirely different reality. Paul performed brilliantly during his first season with the Rockets and his impact on the legitimate title contender is undisputed. That said, the franchise isn't automatically compelled to offer a max money, four-year deal that would terminate when Paul is 37 years old. In a perfect world, the Rockets would sign him to a two- or three-year deal instead of going full-term.
Photo courtesy of USA Today Sports Images.