For better or worse, the Lakers have known exactly what they wanted and how to get it for several seasons now. Now that the 2018 free agency period is upon us, we'll see if the salary cap posturing was worth it. In an effort to make themselves an appealing destination for LeBron James and/or Paul George the club has neglected and even outright punted up-and-coming talent.
Given what's at stake, any of Los Angeles' own free agents will have to wait for dominoes to start falling before they can find out what kind of role – if any – is still available to them with the Lakers. Because of its history and location and all the inherent marketing opportunities that come along with being a celebrity in Hollywood, this organization is capable of things that nobody else is. Love it or hate, we're going to see that on full display this summer.
Kentavious Caldwell-Pope, SG, 25 (Down) – Signed to a one-year, $18MM deal in 2017
In today's NBA there will always be a market for 3-and-D perimeter threats so whether it comes in Los Angeles or elsewhere, Caldwell-Pope should have no problem finding a suitor. That fact that he's still only 25 years old only makes him all that more appealing. The problem, however – and the one thing standing between him and the max deal he allegedly sought last offseason – is that despite the guard's legitimately impressive .423 three-point percentage after the All-Star Break, he's never been a reliable go-to scoring option on a competitive team and appears to have a finite ceiling. Is the two-guard an untapped star or an elite niche player? I'd wager on the latter and caution any team desperate enough to pay him like the former.
Channing Frye, C, 35 (Down) – Signed to a four-year, $32MM deal in 2014
Frye saw a reduced role in 2017/18 after serving as a valuable depth piece for the championship-contender Cavaliers the past two seasons. Still, despite seeing his usage trend downward, the veteran is as sneaky dangerous as ever. It's hard to imagine Frye earning much more than the veteran's minimum in his 13th season but it's easy to picture him knocking down critical threes for a contender come the 2019 postseason.
Andre Ingram, SG, 32 (Down) – Signed to a one-year deal in 2018
Ingram had a memorable cup of coffee this season but isn't likely to parlay the impressive debut into a full-time gig anytime soon. That said, the 32-year-old could find himself on the 10-day radar for depth-hungry teams late next season. That's an improvement over a seemingly symbolic late-season addition in 2018.
Brook Lopez, C, 30 (Down) – Signed to a three-year, $63MM deal in 2015
Lopez has done an admirable job developing a three-point shot late in his career and that will likely help him prolong it, but don't expect him to land another featured role like he had with the Nets anytime soon either. Lopez is on the wrong side of 30 and has never been a particularly feared rim protector. Expect the veteran to contribute meaningful minutes to a contender at a drastically reduced rate; playoff-bound teams don't have the cap space and the rest shouldn't even be looking.
Julius Randle, C, 23 (Up) – Signed to a four-year, $14MM deal in 2014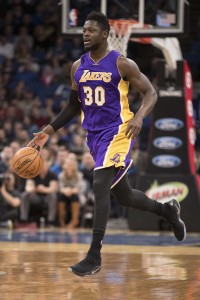 Watching the Lakers mishandle Randle over the course of the past two seasons would have been outright inexcusable if they didn't have a legitimate chance of landing a premier free agent or two this summer. They do, so we'll let them off the hook, but if any other franchise were to drag an absolute workhorse through the mud for two seasons just because they wanted to keep their options open for free agency, we'd be laughing at them. Randle, a restricted free agent, is going to get paid this offseason and he should, my only hope – for the sake of the young man's dignity – is that it comes from an organization that hasn't made it abundantly clear that he's a third or fourth priority. Fun prediction: Randle makes an All-Star team before any of Lonzo Ball, Brandon Ingram or Kyle Kuzma.
Isaiah Thomas, PG, 29 (Down) – Signed to a four-year, $27MM deal in 2014
For a fleeting moment in time, the stars aligned such that Thomas – an undersized, volume-shooting journeyman – was an honest-to-goodness MVP candidate. That, however, doesn't mean that Thomas is or ever was a max player. While the drop in Thomas' value here in 2018 can be lazily chalked up to his hip injury and the fact that he'll be 30 years old by the end of next season, it wouldn't have even felt right this time last season for a team to commit north of $25MM to a ball-dominant guard with a Napolean Complex. I can see Thomas as a world-class reserve combo guard if his hip holds up into the second-half of his career, I'm just not confident that he would share my vision.
Travis Wear, SF, 27 (Down) – Signed to a one-year deal in 2018
The Lakers brought Wear aboard as a last-season depth add and while he may not break camp with the team next season, he may have shown enough during his brief stint with the franchise to warrant a call-up earlier in the season next year. The Lakers may not have much of an interest in investing substantially in the forward but he's a familiar face that could end up back in purple and gold eventually.
Photo courtesy of USA Today Sports Images.