While the NBA won't announce this year's award winners until late in June, we're making our picks for the year's major awards now.
The Hoops Rumors writing team has weighed in with our choices below, but we also want to know which players, coaches, and executives you think are most deserving of the hardware this season, so jump into the comments section below to share your thoughts.
We're keeping things going today with the award for Defensive Player of the Year. Here are our selections:
Austin Kent: Rudy Gobert (Jazz)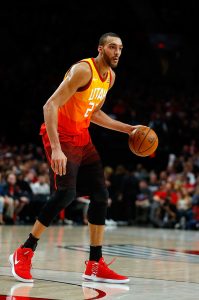 Although he missed a significant chunk of the 2017/18 season, it's hard to give this award to anybody but Gobert, whose defensive rating is in a class of its own. More importantly, Gobert has singlehandedly given his team an identity as a defensive force. Gobert meets the analytics test and the eye test, all while serving as a physical deterrent that opposing coaches need to build their sets around. Quite frankly, it's strange he hasn't won the award already.
Arthur Hill: Rudy Gobert (Jazz)
The Jazz became an elite team once Gobert returned from a pair of knee injuries, and it wasn't because of his scoring. He is one of the NBA's top rim protectors with 2.3 blocks per game, which makes defensive schemes much easier for his teammates. Utah put up the league's best defensive numbers after Gobert got healthy in mid-January, and it can be attributed to the intimidating presence he brings in the middle.
Chris Crouse: Anthony Davis (Pelicans)
Rudy Gobert, who should have been the clear winner had he played around 70 games, opened the door for other candidates by only suiting up in 56. Joel Embiid's defensive work this season has been beautiful to watch, but he only played in 63 games. Then there's Davis, a freak defender who continues to grow on both sides of the court and someone who will be in contention for this award every season as long as he remains healthy.
Davis' 4.9 defensive win shares trumps both Gobert's (3.9) and Embiid's (3.8). However, New Orleans finished the season tied with the Lakers and Pacers for 12th in
defensive efficiency rating
, while the Jazz were 2nd and the Sixers were third. Can a DPOY winner come from a team that doesn't even rank in the top 10 in key defensive indicators? Or should we reward Davis for lifting a team, which outside of
Jrue Holiday
, who should be considered a candidate for this award as well, doesn't have another consistent plus defender on the roster?
I entered the writing of this pick without a decision made. I'd be fine with any of the aforementioned players taking home the honors. Same with Al Horford, who is one of the Celtics' two best players. But, my vote goes to Davis. He shared the floor with several minus defenders possession after possession (and the Pelicans had the most possessions in the league this season) and willed them to an above average mark on the defensive side of the court so that he could take care of business on the other end. Giving him the award this season feels right.
Dana Gauruder: Rudy Gobert (Jazz)
Utah finished second in the league in fewest points allowed in the paint and first in fewest second-chance points. Gobert is the primary reason for that. He's arguably the league's premier interior defender and shot-blocker. Donovan Mitchell will grab all the headlines for Utah, but Gobert is just as important to the team's success.
Luke Adams: Anthony Davis (Pelicans)
On a game-by-game basis, Rudy Gobert and Joel Embiid may have edged out Davis in terms of defensive impact. But giving a major award to a player who misses a significant chunk of the season doesn't sit right with me, making it difficult for me to give my vote to Gobert (56 games) or Embiid (63).
Gobert and Embiid are terrific defensive centers and should have plenty of chances to win this award in future seasons, but I believe Davis is deserving of the nod this year. The Pelicans' defensive rating improved by approximately seven points per 100 possessions when he was on the floor, and he led the NBA in blocks (2.6 BPG) for the third time in the last five years. Davis also didn't have the same level of defensive help that the other candidates did, particularly in the frontcourt, where he often played alongside mediocre defenders like DeMarcus Cousins and Nikola Mirotic.
The Pelicans' defense wasn't elite, but without Davis' efforts, it likely would've been among the NBA's worst.
Clark Crum: Rudy Gobert (Jazz)
I realize Gobert missed 26 games, but the Jazz' defensive numbers when he was on the floor are just too impressive to overlook. The team's defensive rating when Gobert was on the court was 97.7, which is 3.8 points better than the Celtics' league-leading rating of 101.5. To put that difference in perspective, a team with a rating of 105.3 – 3.8 points worse than the Celtics – would have placed 12th in defensive rating.
Gobert's individual defensive rating of 97.7 led the NBA among players who averaged at least 30 MPG in 10 or more games. Add to that the fact that the Jazz' record was 11-15 without him – a winning percentage similar to the Lakers' 35-47 mark – and 37-19 with him – akin to the Celtics' 55-27 record – and it's easy to see why Gobert deserves this award.
Previously:
Still to come: