While the NBA won't announce this year's award winners until late in June, we're making our picks for the year's major awards now.
The Hoops Rumors writing team has weighed in with our choices below, but we also want to know which players, coaches, and executives you think are most deserving of the hardware this season, so jump into the comments section below to share your thoughts.
We're keeping things going today with the award for Rookie of the Year. Here are our selections:
Dana Gauruder: Ben Simmons (Sixers)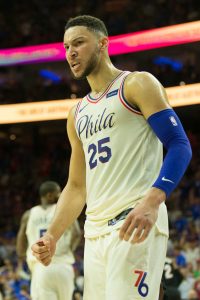 Donovan Mitchell was an absolute steal with the No. 13 overall pick and most lottery teams last June will lament passing him over. Unfortunately for the dynamic point guard, Simmons had his rookie season pushed back a season by a foot injury. He's a threat to post a triple-double every night and he, along with Joel Embiid, will make the Sixers contenders for many years to come. When Embiid was injured late in the regular season, Simmons showed he could carry the team on his shoulders.
Austin Kent: Ben Simmons (Sixers)
This is Simmons' first year playing in and having an impact on NBA games. That's all there is to it. Dwelling on semantics is what gave us 2017 winner Malcolm Brogdon, which I heartily opposed this time last year because there's absolutely no denying that someone else was the most impactful, memorable first-year performer. Unless you want to retroactively strip previous award winners David Robinson and Blake Griffin for not playing in their draft year, or heck, put asterisks next to four-year college seniors like Tim Duncan and Damian Lillard for having an unfair life experience advantage, that's how the award works.
Clark Crum: Ben Simmons (Sixers)
I have no qualm with Donovan Mitchell winning this award, but I'm picking Simmons because his team finished with a better record by four games, he averaged twice as many assists and rebounds as Mitchell, and he played in a more efficient manner throughout the season (via PER). Moreover, playoff performance is not taken into account. If it was, I may very well have picked Mitchell.
I consider both players to be future stars, and I don't think the comparisons from the 2003/04 rookie class – Simmons/LeBron James and Mitchell/Dwyane Wade – are as far off as some think.
Arthur Hill: Ben Simmons (Sixers)
If the vote included the playoffs, Jayson Tatum might have a strong case, but it's really a two-man race between Simmons and Donovan Mitchell. Mitchell is the more dangerous scorer and was a huge reason that Utah was able to survive the loss of Gordon Hayward. He has a significant edge in terms of three-pointers and free throws, two big holes in Simmons' game. However, Simmons is a better rebounder and distributor and a much stronger presence on defense. He gets a narrow vote in a talented rookie class.
Chris Crouse: Ben Simmons (Sixers)
Can we retroactively give Simmons the 2016/17 award while giving this year's to Donovan Mitchell? No? That's understandable, but had Simmons or Mitchell somehow experienced their respective rookie seasons in any year over the last decade, I'd argue that only Blake Griffin would have won the ROY honors over either of them. That's how good each player was this season and that's how tight of a race this actually is.
Simmons gets my vote by the slightest of margins, though if Mitchell wins it, I wouldn't protest. However, plenty of fans of the runner-up's team certainly will, taking to Twitter to express outrage at how the league hates their player. Just remember, a vote in one direction is not a sign of disrespect for the other — especially this season.
Luke Adams: Ben Simmons (Sixers)
If this award was about exceeding expectations – as it often is with awards like Coach of the Year or Most Improved Player – Donovan Mitchell's case would be a little stronger. Simmons, the No. 1 pick in 2016, was always viewed as a potential star, while Mitchell nearly slipped out of the lottery in 2017. Now, both players look like future All-Stars.
I give Simmons the slight edge for his efficiency and his all-around contributions as a defender, rebounder, and distributor, which made up for his lack of an outside shot. But Mitchell's case is compelling, and so is Jayson Tatum's, for that matter — Tatum played the role of a crucial contributor on a playoff team better than last year's Rookie of the Year (Malcolm Brogdon) did.
Previously:
Still to come:
Defensive Player of the Year
Most Valuable Player
Photo courtesy of USA Today Sports Images.