MAY 11: Koufos has officially exercised his 2018/19 option, according to RealGM's NBA transactions log.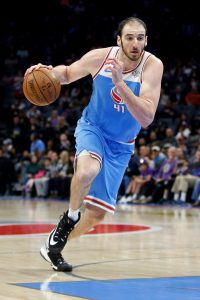 MAY 10: Kosta Koufos won't opt for free agency this summer, according to ESPN's Chris Haynes, who reports that the Kings center will pick up his player option for 2018/19. That option will pay Koufos a salary of $8,739,500 next season before he reaches unrestricted free agency in 2019.
Koufos, 29, has been a mainstay in the Kings' rotation for the last three seasons, having signed a four-year, $32MM+ deal with the franchise in the summer of 2015. In 2017/18, Koufos averaged 6.7 PPG and 6.6 RPG in 71 regular season contests (19.6 MPG).
Although Sacramento has added young bigs like Willie Cauley-Stein, Skal Labissiere, Georgios Papagiannis, and Harry Giles in recent drafts, the team has yet to alter Koufos' role, as he continues to average approximately 20 minutes per game.
Papagiannis was waived by the Kings earlier this year, but with Cauley-Stein and Labissiere still under contract, and Giles set to make his debut in the fall, it will be interesting to see if Koufos once again gets regular minutes for the club going forward. He could have a little value as a trade chip, given his now-expiring salary for 2018/19.
Koufos joins Cory Joseph, Jeremy Lin, Wesley Johnson, and Wesley Matthews as veterans who have exercised – or will exercise – player options, matching 2017's total of five exercised options. That number will likely keep growing this year, since teams aren't expected to be as aggressive with their spending in free agency.
Koufos is one of three Kings players with a player option for 2018/19. Iman Shumpert is considered a lock to exercise his $11MM+ option, while Garrett Temple is probably a good bet to pick up his $8MM option as well.
Photo courtesy of USA Today Sports Images.