The Pistons have decided to move on from head coach and president of basketball operations Stan Van Gundy, a source tells Vincent Ellis of The Detroit Free Press (Twitter link). The team will immediately initiate a search for a new head coach and a new head of basketball ops, Ellis adds (Twitter link).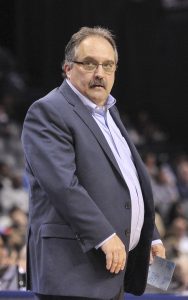 A report last week hinted at this move, as ESPN's Adrian Wojnarowski indicated at the time that Pistons owner Tom Gores wanted to bring back Van Gundy as the team's head coach, but with changes to the front office. Van Gundy was said to be resisting that change to his basketball operations position, and it seems the two sides couldn't find common ground on a compromise. Gores and the Pistons have confirmed the move in a press release.
"We have decided that this change is necessary to take our basketball organization to the next level," Gores said in a statement. "This was a very difficult decision and we did not come to it lightly. I am grateful to Stan for everything he's done for the Pistons and for the City of Detroit. He rebuilt the culture of our basketball team, re-instilled a winning attitude and work ethic, and took us to the playoffs two years ago. He went all-in from day one to positively impact this franchise and this community. But over the past two seasons our team has not progressed, and we decided that a change is necessary to regain our momentum."
Hired by the Pistons in 2014, Van Gundy had a 152-176 (.463) regular season record during his four years with the club. The club only earned one postseason berth during that stretch, and was swept out of the first round during that lone playoff appearance in 2016.
Van Gundy's job security had been a source of speculation for much of the 2017/18 campaign, with his contract set to expire in 2019. After posting a disappointing 37-45 record in 2016/17, the Pistons only improved marginally this season, finishing at 39-43 and missing the postseason for a second consecutive year.
At season's end, Van Gundy and some Pistons players expressed confidence that the club is capable of taking a step forward next year if it can get healthy seasons from Reggie Jackson, Blake Griffin, and Andre Drummond, but it appears another coach – and head of basketball operations – will ultimately determine whether that's the case.
According to Wojnarowski (via Twitter), the Pistons will conduct separate searches for a new head coach and head of basketball operations, as those positions will no longer be shared by one individual. Detroit is the third team to go in that direction within the last year or so — in 2017, Clippers head coach Doc Rivers and Hawks head coach Mike Budenholzer had their president of basketball operations titles removed.
Wojnarowski reports (via Twitter) that Brent Barry is expected to receive strong consideration for a role in Detroit's revamped front office. As ESPN's Zach Lowe notes (via Twitter), Barry was an Arn Tellem client when he was a player and Tellem was an agent — Tellem now holds a top position on the business operations side of the Pistons' organization, and will have a significant say in the team's search for a new coach and head of basketball ops, tweets Vincent Goodwill of NBC Sports Chicago.
It's not clear yet how far the Pistons' changes will extend beyond Van Gundy — GM Jeff Bower reportedly met with Gores last week, but it remains to be seen whether or not he'll be back.
The Pistons will become the fifth NBA team actively searching for a new head coach, as we detailed earlier today.
Photo courtesy of USA Today Sports Images.