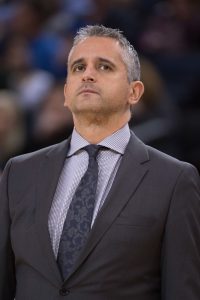 The Suns are hiring Utah Jazz assistant Igor Kokoskov as their new head coach, reports Adrian Wojnarowski of ESPN.
Wojnarowski adds that Kokoskov is signing a three-year deal with the Suns, while Tony Jones of The Salt Lake Tribune tweets that Kokoskov will remain with the Jazz through the remainder of their playoff run.
John Gambadoro of Arizona Sports 98.7 reports that the contract will contain no options and that the final decision to hire Kokoskov came when team representatives met with him in Houston yesterday in between Games 1 and 2 of the Jazz' first round series against the Rockets.
The Suns have confirmed the news, writing that the hire will make Kokoskov the first NBA head coach born and raised outside North America in NBA history.
"We are thrilled to bring Valley resident Igor Kokoskov back to Arizona as head coach of the Phoenix Suns," said GM Ryan McDonough. "Igor has been a pioneer throughout his basketball career and he brings a wealth of high level coaching experience to our club.
"He was one of the first non-American born assistant coaches at both the NCAA and NBA levels and his most recent head coaching stint includes leading the Slovenian national team to the 2017 EuroBasket title, which was the first European title in the history of the country. Igor's teams have always had a player development focus, a creative style of play and a track record of success."
Kokoskov, 46, will become the 19th head coach in Suns' franchise history in his 19th season as an NBA coach. He was as an assistant coach with the Suns from 2008-2013 during their run of success with Steve Nash, including a trip to 2010 Western Conference Finals.
Kokoskov is also a successful international head coach, leading Slovenia to a first place finish at FIBA EuroBasket 2017 and also coaching the Georgian national team from 2008-2015. One member of the Slovenian national team he coached: potential top-pick Luka Doncic.