It took until overtime of the 82nd game of the season to do it, but the Timberwolves earned a playoff spot this year for the first time since 2004, ending one of the longest postseason droughts in professional sports. While the club was quickly dispatched in the first round by the top-seeded Rockets, it was a successful year in Minnesota and there's reason for optimism going forward. After all, two of the team's top scorers – Karl-Anthony Towns and Andrew Wiggins – are still in their early 20s, with plenty of room to keep improving.
Still, this roster will get very expensive very fast, with Wiggins' maximum-salary deal set to hit the books, and pricey new extensions for Towns and Jimmy Butler likely to follow. The Wolves' challenge will be finding a way to retain their most important contributors while filling the roster around them with role players who fit well and don't break the bank.
Here are five key questions facing the franchise this summer: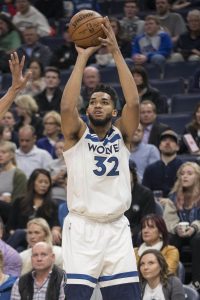 1. Will Towns sign an extension? If so, how much will it be worth?

Towns is coming off his first All-Star appearance and first All-NBA nod, which will make extension negotiations between the Timberwolves and his camp very interesting. There's virtually no doubt that Towns' next deal will be a maximum-salary contract, but if he earns a spot on the All-NBA squad, he'd eligible for a max worth 30% of the cap, rather than just the 25% he'd typically be in line for.
That potential eligibility doesn't mean that the Wolves have to offer Towns the full 30% max if he qualifies, but he's clearly a more important foundational piece than Wiggins, who signed for the 25% max last offseason. I'd expect Minnesota's contract offer to reflect that.
It's possible that the Wolves will wait until Towns' restricted free agency in 2019 to put that long-term offer on the table in order to maximize flexibility, since his cap hold will be lower than his projected maximum salary. The team currently seems unlikely to have cap room available next summer either way though, so there's no real incentive to wait. Getting an extension done within the next few months may also help ease any lingering tension between the franchise and its star center.
2. Can Towns, Wiggins, and Butler co-exist long-term?

Speaking of that reported "tension," I wouldn't expect it to become a destructive force that sinks the current version of the Timberwolves, but it's worth keeping an eye on — which is just what rival teams are doing. The source of that tension hasn't been specified, but there were whispers earlier in the year that Wiggins didn't love being the third option behind his two star teammates, and it's possible Towns experienced some similar frustrations after his shot attempts dipped by nearly 20% from 2016/17 to 2017/18.
While those teams who are monitoring the situation in Minnesota would love for Towns to become available, Wiggins is the most likely trade candidate of the three. He has yet to become the kind of two-way star the Wolves envisioned when they acquired him for Kevin Love back in 2014, and while there's still time for him to evolve into that player, many of his skills overlap with what Butler brings the team, which could stunt his growth to some extent.
A stronger outside shooter who doesn't need the ball in his hands to succeed – think Klay Thompson – would be a better fit with the Wolves' current roster, but a favorable deal will be hard to find. With Wiggins' mammoth five-year extension about to take effect after a solid but unspectacular season, his trade value isn't at its peak.
The Wolves probably won't break up their "Big Three" this summer, but I think something's got to give in the long term. If all three players stick with the team and Towns and Butler get new deals for 2019/20, they could easily be earning a combined $90MM that year, and they'd only get more expensive from there. That's a huge price to pay for three stars who might not perfectly complement one another.
3. Who is on the trade block?

While Wiggins may not technically be on the trade block this offseason, I believe the Wolves would be willing to move him in the right deal. There are other players on the roster whom the team might try a little harder to trade.
The most obvious trade candidate is Gorgui Dieng, who saw his role reduced last season due to the arrival of Taj Gibson, a Tom Thibodeau favorite. A solid rebounder and rim protector whose offensive game is somewhat limited, Dieng can play both power forward and center, making him a good third big man to have on a roster. However, Thibodeau's approach to his rotation means Dieng doesn't see nearly enough action to warrant the team's investment in him — he has three years and $48MM remaining on his contract.
Dieng doesn't have positive trade value at this point, so the Wolves would probably need to attach an asset to him to make a deal, whether that means a first-round pick or perhaps a youngster like Justin Patton or Tyus Jones.
Elsewhere on the roster, Gibson and Jeff Teague probably aren't strong candidates to be moved, since they were the veterans hand-picked by Thibodeau last summer. Cole Aldrich, whose $7MM salary for 2018/19 is only guaranteed for about $2MM, makes for an interesting trade piece, since he could be used to match salaries, then waived by his new team. If Minnesota intends to take advantage of that though, it will need to be soon, as Aldrich's salary becomes fully guaranteed before the new league year begins.
4. Will Derrick Rose and/or Nemanja Bjelica be back?

Having already brought Butler and Gibson with him to Minnesota, Thibodeau didn't surprise anyone by signing his former MVP to a rest-of-season contract in March. Rose, who had been traded by the Cavs and waived by the Jazz at the deadline, appeared unlikely to make an impact for an NBA team at that point, but Thibodeau and the Wolves managed to coax some solid play out of him down the stretch — the veteran point guard was one of the club's most reliable contributors during its limited playoff run.
It likely wouldn't break the bank to bring Rose back, so I think there's a good chance that he and the Wolves will work something out. However, I think it's less likely that Bjelica will re-sign. After knocking down 41.5% of his three-pointers last season, Bjelica will be in high demand from teams seeking a stretch four, and it would make sense for him to join a team where he'd have either a larger role or a better shot at a title.
5. How can the Timberwolves add shooting?

With Bjelica perhaps headed elsewhere, and Jamal Crawford seemingly unlikely to return to the Wolves, the team will be in desperate need of some outside shooting, with limited resources available to acquire it.
The draft represents one avenue to add a shooter. While the Wolves' traded their own first-round pick (No. 19), they hold the Thunder's first-rounder (No. 20) and will end up drafting in virtually the same spot they would have with their own selection. Minnesota also has the No. 48 pick in the second round.
In the first round, even if players like Jerome Robinson and Kevin Huerter are off the board by the time Minnesota on the clock, there should be plenty of good options available. Donte DiVincenzo, Grayson Allen, Jacob Evans, Khyri Thomas, Josh Okogie, and Gary Trent Jr. are among the strong outside shooters who will likely be up for grabs. Keita Bates-Diop is also an intriguing option if the club expects to lose Bjelica.
It's trickier to predict which prospects will still be on the board by No. 48, but Landry Shamet and Sviatoslav Mykhailiuk are among the sharpshooters projected to be drafted in that neighborhood.
Of course, Thibodeau generally favors veterans, so shooting figures to be a top priority for the Wolves in free agency. While the club won't have cap room available, it may be able to use its full mid-level exception without crossing the tax apron. Usual suspects like Wayne Ellington, Marco Belinelli, J.J. Redick, and Joe Harris could be targets. Trevor Ariza, Ersan Ilyasova, Anthony Tolliver, and Luke Babbitt are among the options available in the frontcourt.
---
Here's where things currently stand for the Timberwolves financially:
Guaranteed Salary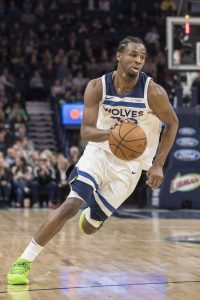 Andrew Wiggins ($25,250,000)1
Jimmy Butler ($20,445,779)
Jeff Teague ($19,000,000)
Gorgui Dieng ($15,170,787)
Taj Gibson ($14,000,000)
Karl-Anthony Towns ($7,839,435)
Justin Patton ($2,667,600)
Tyus Jones ($2,444,053)
Cole Aldrich ($2,056,021) — Partial guarantee. Non-guaranteed portion noted below.2
Kevin Martin ($1,360,304) — Waived via stretch provision

Total: $110,233,979

Player Options
Team Options
Non-Guaranteed Salary
Cole Aldrich ($4,900,000) — Partial guarantee. Guaranteed portion noted above.2
Total: $4,900,000

Restricted Free Agents
Nemanja Bjelica ($4,937,499 qualifying offer / $7,504,998 cap hold): Bird rights
Marcus Georges-Hunt ($1,699,698 qualifying offer / $1,699,698 cap hold): Non-Bird rights
Amile Jefferson ($1,537,872 qualifying offer / $1,537,872 cap hold): Non-Bird rights
Anthony Brown ($1,499,698 qualifying offer / $1,499,698 cap hold): Non-Bird rights3
Total: $12,242,266
Unrestricted Free Agents / Other Cap Holds
Jamal Crawford ($5,193,600): Non-Bird rights4
No. 20 overall pick ($2,142,395)
Aaron Brooks ($1,499,698): Non-Bird rights
Derrick Rose ($1,499,698): Non-Bird rights
Total: $10,335,391
Projected Salary Cap: $101,000,000
Projected Cap Room: None

If we assume the Timberwolves waive and stretch Aldrich and keep their other eight players with guaranteed salaries, we can add cap charges for their first-round pick and three empty roster slots to arrive at a total team salary of $113,499,626. That takes the Wolves well over the cap, and projects to take them near the luxury tax line too if they want to use most or all of their mid-level exception.
Footnotes:
Wiggins will have a maximum salary worth 25% of the salary cap. This projected max salary is based on a $101MM cap, but it could be higher or lower depending on where the cap lands.
Aldrich's salary becomes fully guaranteed after June 20.
Brown, who was on a two-way contract, is eligible for a qualifying offer equivalent to a standard, minimum-salary NBA contract, since he's no longer eligible to sign another two-way deal.
Crawford has reportedly decided to decline his 2018/19 player option worth $4,544,400.
Note: Rookie scale cap holds are estimates based on salary cap projections and could increase or decrease depending on where the cap lands.
Salary information from Basketball Insiders was used in the creation of this post. Photos courtesy of USA Today Sports Images.