Hawks center Dewayne Dedmon has opted into his contract for the 2018/19 season, reports Shams Charania of Yahoo Sports. Dedmon will earn a salary of $7,200,000 next year after exercising his player option.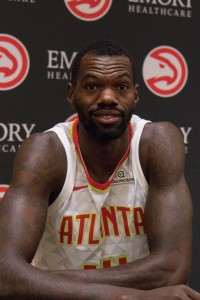 Dedmon, 28, enjoyed a career-best season in Atlanta during the 2017/18 campaign, averaging a career-high in points (10.0), rebounds (7.9), and assists (1.5) per game. Dedmon was even able to increase his range to the three-point line, shooting a relatively respectable 35.5% from deep on 141 attempts after only attempting one three-pointer in his entire career before this season.
Despite those improved numbers, it remained unlikely that Dedmon would have commanded a higher annual salary than the $7.2MM he will earn next season.
Meanwhile, the Hawks have openly discussed their plans to build for the future, so Dedmon's expiring contract could potentially become a trade asset sometime in the not-so-distant future. However, given Dedmon's production, he's probably an unlikely candidate to be waived.
Photo courtesy of USA Today Sports Images.